A Nation Divided
There were many causes of the Civil War in
antebellum
America, including states' rights,
sectionalism
, and slavery. Slavery, however, connected each of the other causes of the War. It became more important and necessary after the invention of the cotton gin in 1793 made separating seed from cotton bolls easier. The expansion of slavery into the western territories and the Dred Scott decision further divided the North and South, leading the country to war.

The Industrial Revolution was a period of unprecedented technological advancements which changed the means of producing textiles and metals, and introduced the factory labor system. It began in England and soon spread to the United States, predominantly in the Northern region.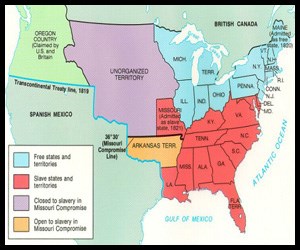 The North had many rivers and streams that were needed to turn the water wheels of factories. The topography of Northern land was rocky and made large-scale farming difficult, making the transition to factory work appealing to its residents. The topography of the South lent itself to large-scale farming. After the invention of the cotton gin by Eli Whitney, the process of separating seed from the cotton boll was made easier, thus there was an increased need for slave labor. The Southern states were also affected by the Industrial Revolution. However, it was not on as significant a scale as in the North.
Bleeding Kansas was a proxy war between Southerners and Northerners over the issue of slavery in the territory of Kansas and the state of Missouri. The Kansas-Nebraska Act of 1854 nullified the Missouri Compromise, an act that allowed Missouri to enter the Union as a slave state and Maine as a free state. The Kansas-Nebraska Act allowed the people of the territory to vote on whether or not slavery would be legal in the state. This idea is known as Popular Sovereignty. The Missouri Compromise also established that the status of future states would be determined by the state's location north or south of the 36⁰30' parallel.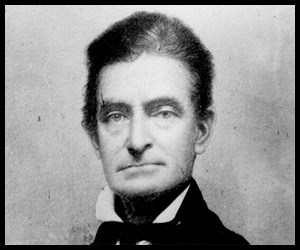 One figure often associated with "Bleeding Kansas" is John Brown. Brown was an abolitionist who led the Pottawatomie Massacre in Kansas that resulted in the deaths of five settlers. The Massacre was in reaction to the destruction of Lawrence, Kansas, an anti-slavery town, after 800 southerners stormed Lawrence. They destroyed the newspaper press, burned the hotel, and took all the residents' guns. Brown became best known for his failed raid on Harpers Ferry, Virginia (now West Virginia). He broke into the arsenal there in order to give weapons to slaves. The coup failed, as fewer slaves chose to join the rebellion and Brown was eventually hanged.
Last updated: April 14, 2015