Art for Parks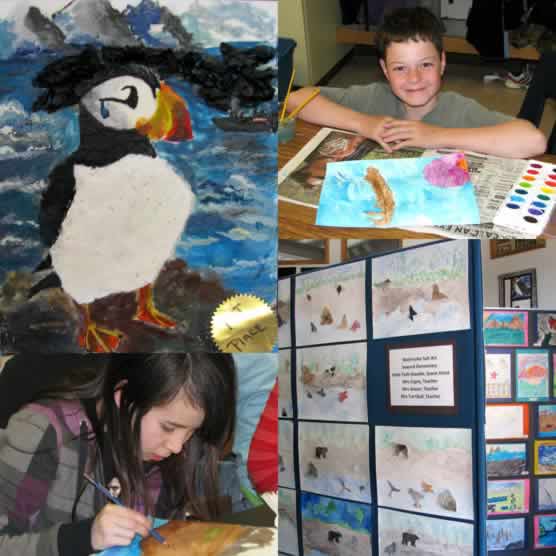 News Release Date:
July 15, 2009
Contact: CJ Rea, (907) 422-0531
"Is this an art gallery or a National Park Service building?" You would have been asking this very question if you were walking by our Information Center this past spring.
April 20-thru 27th was National Park Week, a time when we celebrate our national parks as special places that preserve natural landscapes and our nation's heritage. This year 11 local artists donated their time and talents to all of the Seward classrooms grades 1-12. The program, Arts for Parks, brings local artists and students together to create Art about Parks.
Each year a unique theme for the Kenai Fjords National Park art show is chosen and local artists contribute by teaching classes that focus on the theme using their favorite art media. The theme for this year's show is "Caring for Our Coasts - Ocean Stewardship in Kenai Fjords National Park." Artists taught students a variety of media including encaustics (painting with wax), wool felting, Eric Carle-style art, and scientific sketches. Together, established and young aspiring artists collaborated to explore a variety of art media while celebrating the unique character of Kenai Fjords National Park.
At the completion of the classes, all of the artwork was displayed in the NPS Information Center for everyone to admire. Although every artist is a winner, the artwork was judged and art supplies were awarded in 5 categories to further their interest in the arts. All of the supplies and prizes were purchased using Youth Partnership Program funding through the National Park Service.
Thank you to the artists in our community for enriching all of our lives by sharing their talents with Seward!
Last updated: April 14, 2015