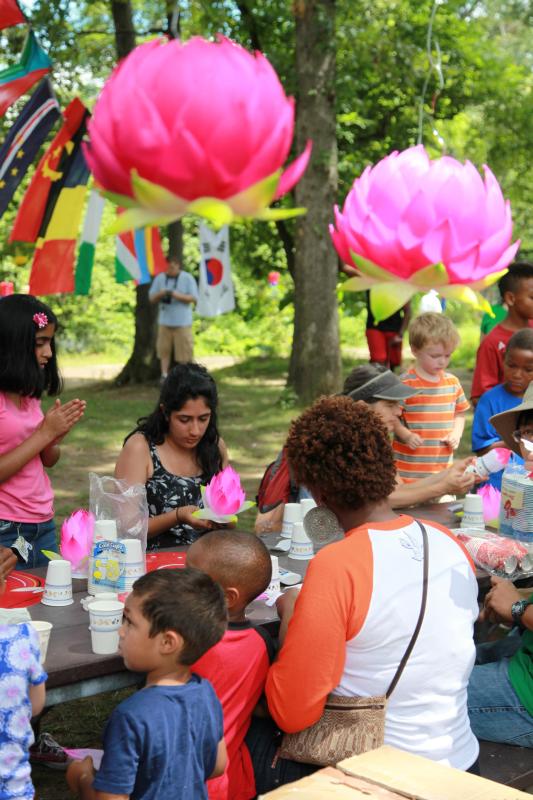 News Release Date:
June 19, 2017
Contact: Pya Langley, 202-450-0226
Encuentra Tu Parque!
Celebrate global culture at Kenilworth Park and Aquatic Gardens weeklong Lotus and Water Lily Festival
WASHINGTON – Experience diverse cultures and stunning beauty at the annual Lotus and Water Lily Festival, July 15-22, 2017. Join the National Park Service for the festival kickoff on Saturday, July 15, 2017, from 10 a.m. to 4 p.m. at the natural wetlands of Kenilworth Park and Aquatic Gardens.
See spectacular 3-foot-tall lotuses and vibrantly colored lilies during peak bloom at the only national park focused on growing aquatic plants. Celebrate culture, nature and community with live music and dancing performances, lotus tea tasting, gardening workshops, live animal programs and many more activities that highlight Latin, Asian and African traditions.
"Lotuses and lilies are cultural icons of the world and are grown right here in D.C. at Kenilworth Aquatic Gardens," Tara Morrison, superintendent of Anacostia Park, said. "This year, we're working with organizations like The Mexican Cultural Institute to invite everyone to Encuentra Tu Parque, or Find Your Park while experiencing the beauty and excitement of the festival!"
The Lotus and Water Lily Festival continues through the week with a jazz concert, fun activities for kids and a ranger led night hike to see the eye-catching, night-blooming lilies. For more information about the weeklong celebration visit go.nps.gov/lotus.
Kenilworth Park and Aquatic Gardens serves as a serene environment for recreation, reflection and environmental discovery. The annual Lotus and Water Lily festival draws more than 5,000 visitors to the aquatic gardens. Visit www.facebook.com/kenilworthaquaticgardens to see photographs from 2016.