News Release
Bridging Past and Future: Ribbon Cutting of the New Brooks River Bridge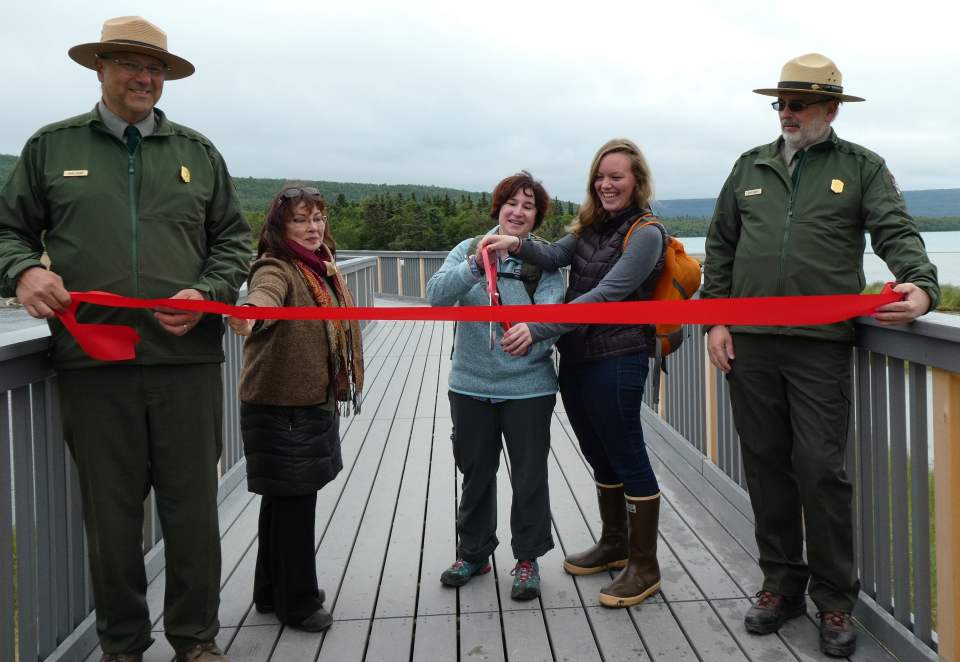 News Release Date:
July 16, 2019 On June 29 and 30, 2019, Katmai National Park & Preserve (NP&P) celebrated the grand opening of its new elevated bridge across the lower Brooks River. The event marked the end of a challenging project first conceived over a decade ago, as well as the beginning of a new era for Katmai.
Weather prevented some guests from arriving as planned on Saturday morning. In the end, park staff and visitors came together both Saturday and Sunday to hear from a number of individuals who were essential in bringing the bridge project to fruition.
In his opening remarks to the crowd, Katmai NP&P Superintendent Mark Sturm highlighted the importance of input from the Alaska Native community over the long course of the bridge construction project: "It is important to recognize that we are standing on sacred ground that has literally been occupied for many thousands of years. And that this construction represents progress. And with progress comes change. Sometimes the change is not always perceived as positive change because when something does change, there's something that's lost as well."
The theme of history, change, and continuity was also addressed by Andria Agli of Bristol Bay Native Corporation (BBNC) and the Council of Katmai Descendants. After greeting the crowd with a rousing "Welcome to Sugpiaq Country!" Andrea recalled the rich cultural heritage of the area, spanning thousands of years from traditional migrations through the BBNC's recent acquisition of Katmailand which runs Brooks Lodge. She also noted the good working relationship between Superintendent Sturm and the BBNC and thanked him and his team for their support. "A lot of folks come here to see the bears, and we like to be able to share our story as well. So thank you for being here. As you partake in this beautiful bridge, also marvel in the beauty of this area and the history as well."
Noting that "projects like this take a lot of conversations and a lot of advocacy," Superintendent Sturm went on to thank some of the other guests present who helped make the bridge project possible, including the National Parks Conservation Association, represented by Erica Carrol, and the Alaska Department of Fish and Wildlife, represented by Sara Wolman. Sheila Ring of Katmai Conservancy spoke about the Conservancy's role in assisting the park with fundraising for its ongoing projects, including the well-known Bearcam partnership with 
explore.org
 and the Annenberg Foundation.
Superintendent Sturm also thanked the staff of Katmailand for their remarkable professionalism in serving the park visitors who stay at Brooks Lodge. Speaking on behalf of the Lodge, Jason Whiting underscored the park's and Katmailand's shared commitment to protecting Katmai's salmon and trout resources.
Congratulations for a job well done also went out to STG Incorporated, the company contracted to help construct the bridge. Alex Leavens, who was in attendance to represent STG, gave the crowd a good laugh when he drew attention to the complex logistics of building around what he called the Brooks River's "local residents" (meaning: wild brown bears).
Mr. Leavens also noted STG founder Jim St. George's long-standing personal connection to the park, which he visited for many years and whose family still visits regularly to this day. Finally, he echoed Superintendent Sturm's emphasis on the long-term commitment represented by the bridge, which will be around for "generations to come."
Senator Murkowski's representative Lucy Murfitt – who, with Annie Hoefler, had the honor of cutting the ceremonial ribbon – took the opportunity to predict that the "bear jams" that had once prevented visitors and staff from crossing the old floating bridge would now be a thing of the past. She also recognized Leif Fonnesbeck for his work in the Senate Appropriations Committee, which was instrumental in securing the funds for the bridge project.
NPS Alaska Regional Director Herbert Frost underscored the many difficulties encountered by an undertaking as large and logistically complex as the Brooks River bridge project. "Any time the regional director becomes aware of a project, it's usually because there's a problem with it. Things that go good I never see," he joked. "Nothing's easy. It seemed like there were always little roadblocks or stumps all along the way," he acknowledged, before recognizing the many people at the park and regional levels who over many years had been instrumental behind the scenes in moving the project closer to its goal. He also picked up the thread of the Brooks River's millennia-long history of human life and culture. "And this bridge looks like it can be here for the next 100 years. So when the park celebrates its 200th anniversary in 2118, who knows, this bridge could still be here. And that'll be a testament to everybody that I just talked about."
NPS Acting Deputy Director of Operations David Vela also expressed his gratitude to everyone who made the construction of the bridge possible: "This really is a very special day in so many ways and for so many reasons. We've acknowledged a number of people here today, but I want to acknowledge all of you as taxpayers. Because this is your legacy to the nation. You helped to pay for this. You had a company that helped to build it. And you have staff that will manage it and maintain it. And you have visitors from around the world that will come to enjoy it."
This was the deputy director's first visit to Katmai but not his first exposure to brown bears. While serving as superintendent at Grand Teton National Park he always carried bear spray. When he didn't receive any upon arriving at Brooks Camp, he first thought, "This is freakin' me out, man!" but he quickly realized that the reason was to be found in the unique way humans and bears are habituated to each other at Brooks. "This is a different ecosystem. Bears are managed differently here."
The deputy director's comments also served as a final reminder of the bridge's purpose of helping Katmai achieve balance in its double mission of preserving and protecting its resources while also facilitating the public's enjoyment of them. As Superintendent Sturm put it, "Today we can walk across the bridge on a safe, elevated platform and ultimately the bears have freedom of movement that they didn't used to have."
Given that visitation to the park is increasing annually, there can be little doubt that the bridge that now spans the Brooks River is also the bridge to Katmai's future.
Last updated: June 9, 2020