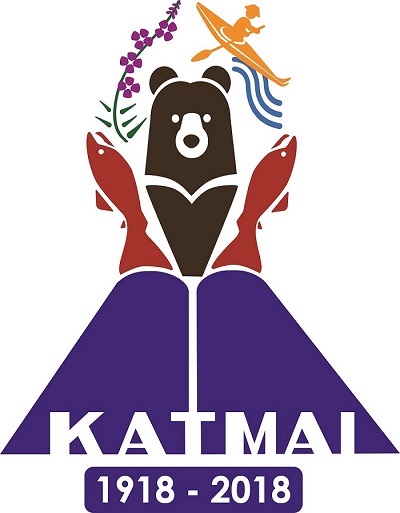 News Release Date:
April 9, 2018
Contact: Mark Sturm, 907-246-2120
Contact: Anela Ramos, 907-246-2131
Katmai National Park & Preserve, King Salmon, Alaska
– Katmai National Park and Preserve celebrates its 100th birthday this year.  Although the park is famously known for its photogenic brown bears, Katmai was first established in 1918 as a monument dedicated to protecting the landscape associated with the 1912 Novarupta event—the largest volcanic eruption of the 20th century. To commemorate the establishment of such an incredible place, all are invited to join the park during our year-long celebration!
The official kick-off event, "The Geologic Story of Katmai," is scheduled for April 28th at the Lucy Cuddy Hall at University of Alaska-Anchorage, and runs from 10am to 3pm.  Prepare to be amazed as expert speakers representing the Geophysical Institute at University of Alaska-Fairbanks (Dr. Pavel Izbekov), the Alaska Volcano Observatory (Dr. Michelle Coombs), the Alaska Native Heritage Center (Loren Anderson, Director of Culture Programs), and the National Park Service (Dr. Chad Hults) tell the powerful story of the unique forces that created the Valley of Ten Thousand Smokes and forever changed the lives of the region's Alutiiq-Sugpiag people.  Limited food and beverages will be provided throughout the day courtesy of the Katmai Conservancy.  Admission is free for all!
The celebration continues into the summer with periodic webinar events—approximately twice a month—featuring a variety of dynamic speakers deeply connected to Katmai's wildlife, historic lodges, flora, fisheries, and Alaska Native cultures. Further details and updates on Centennial events are available online at https://www.nps.gov/katm/index.htm.  A closing ceremony will be held in King Salmon-Naknek showcasing the local community connection with Katmai parklands on September 22nd.  Stay tuned for more details!
Park visitors, virtual and in-person, are invited to share their stories and adventures with Katmai through social media with the hashtag #katmai100. Photos, videos and other park inspired artwork will be reposted to the park's official social media outlets.  
The Geologic Story of Katmai is made possible with the assistance from Katmai Conservancy, the Annenberg Foundation and explore.org, Alaska Geographic, University of Alaska-Anchorage, University of Alaska Fairbanks, Alaska Volcanic Observatory, Alaska Native Heritage Center, and the students of the Bristol Bay School District.