News Release
Bear 409 Beadnose Crowned Fattest Bear 2018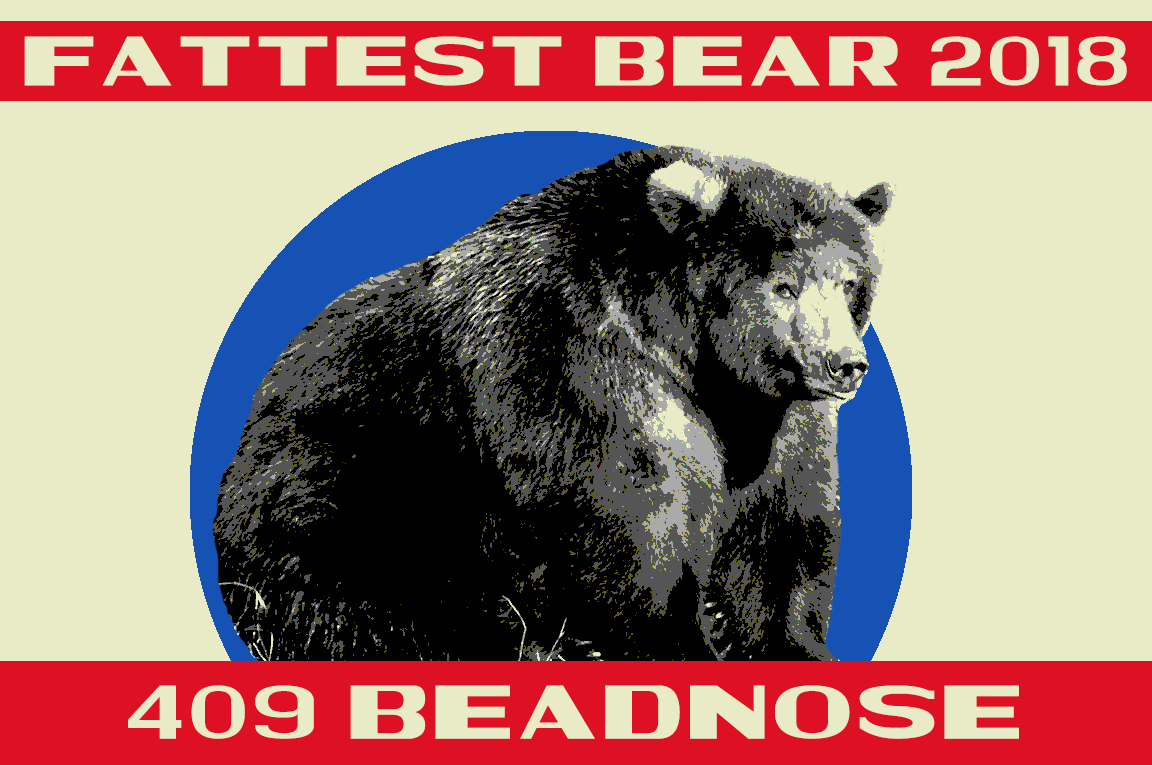 News Release Date:
October 10, 2018
Contact: Anela Ramos
King Salmon, AK
 – In the tournament to be the tubbiest on the tundra, bear 409 Beadnose is the undisputed heavyweight champion for 2018. Online fans voted bear 409 "Fattest Bear" in the culmination of Fat Bear Week, a March-Madness style competition on the national park's social media.
In a final vote on October 9th, 409 Beadnose was crowned champion for the 2
nd
 time in the event's five-year history. She bested another astoundingly large bear, 747, a boar whose belly barely makes clearance with the ground. A total thirteen bears from the Brooks River area of Katmai National Park were listed in the competition when it began on October 3
rd
.
Though she was flying solo this year, bear 409 has raised four litters of cubs since being first identified as a subadult bear in 1999. After emancipating two cubs in early this year, she was able to keep all of that savory salmon to herself… allowing her to balloon into the bulging bear that captivated audiences online.
This weight gain is a necessity for bears, as it helps them to survive a long winter of hibernation. Over the course of winter hibernation, a bear could lose up to one third of its body mass. In a few short months, they will have to gain it all back. This transformative weight gain was on full display during Fat Bear Week with "before" and "after" comparison photos.
Since 2012, the bears of Brooks River have been visible to audiences around the world on explore.org's Bear Cams. Through the cams, available at 
explore.org/bears
, viewers are able to watch online as one of the world's highest concentrations of bears feed on sockeye salmon the Brooks River. The 24-hour stream provides viewers the opportunity to follow the lives and habits of some of these individual bears.  
Last updated: October 10, 2018