News Release
Commemorating the life of Pelagia Malgenak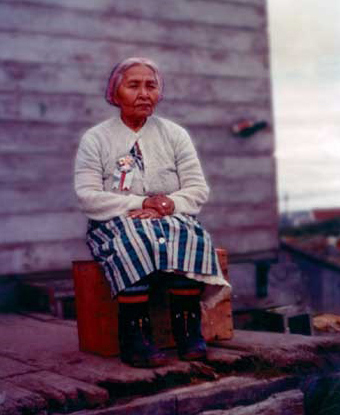 News Release Date:
June 2, 2022
Contact: Amber Kraft
KING SALMON, Alaska
–– Katmai National Park and Preserve will host a public unveiling ceremony of a "Monument Commemorating the life of Pelagia Malgenak" on June 7, 2022 at 1:00 pm in the King Salmon Visitor Center. All are invited to come and learn more about this incredible person.
Pelagia was a widely respected matriarch and leader of Alaska Native people who are closely affiliated with Katmai. Her story shows a grit and determination to survive as an individual but also as a vessel to help a culture survive. Despite losing her homeland to the largest volcanic eruption of the twentieth century and having her community shaken, Pelagia was one of the people who never gave up living, teaching, and sharing her culture and values including a spiritual reverence for the very land she lived on. Her Sugpiat heritage puts a premium on passing along the traditions and history of their people from generation to generation. Pelagia and other Sugpiat people whose ancestral homeland is now Katmai have living descendants who still have close ties to the land today. It is of vital importance that those not of their culture are also aware of these amazing people, living and past, and the traditions and values they hold which we can all learn so much from. You can learn more about Pelagia at
https://www.nps.gov/people/pelagia-melgenak.htm
The monument was produced by local Alaska Native artist Darlene Lind and will eventually form the centerpiece of a collaboratively developed interpretive display of the region's Alaska native culture. 
www.nps.gov
Last updated: June 2, 2022