News Release
2022 Winning Brooks Camp Bear Pin Design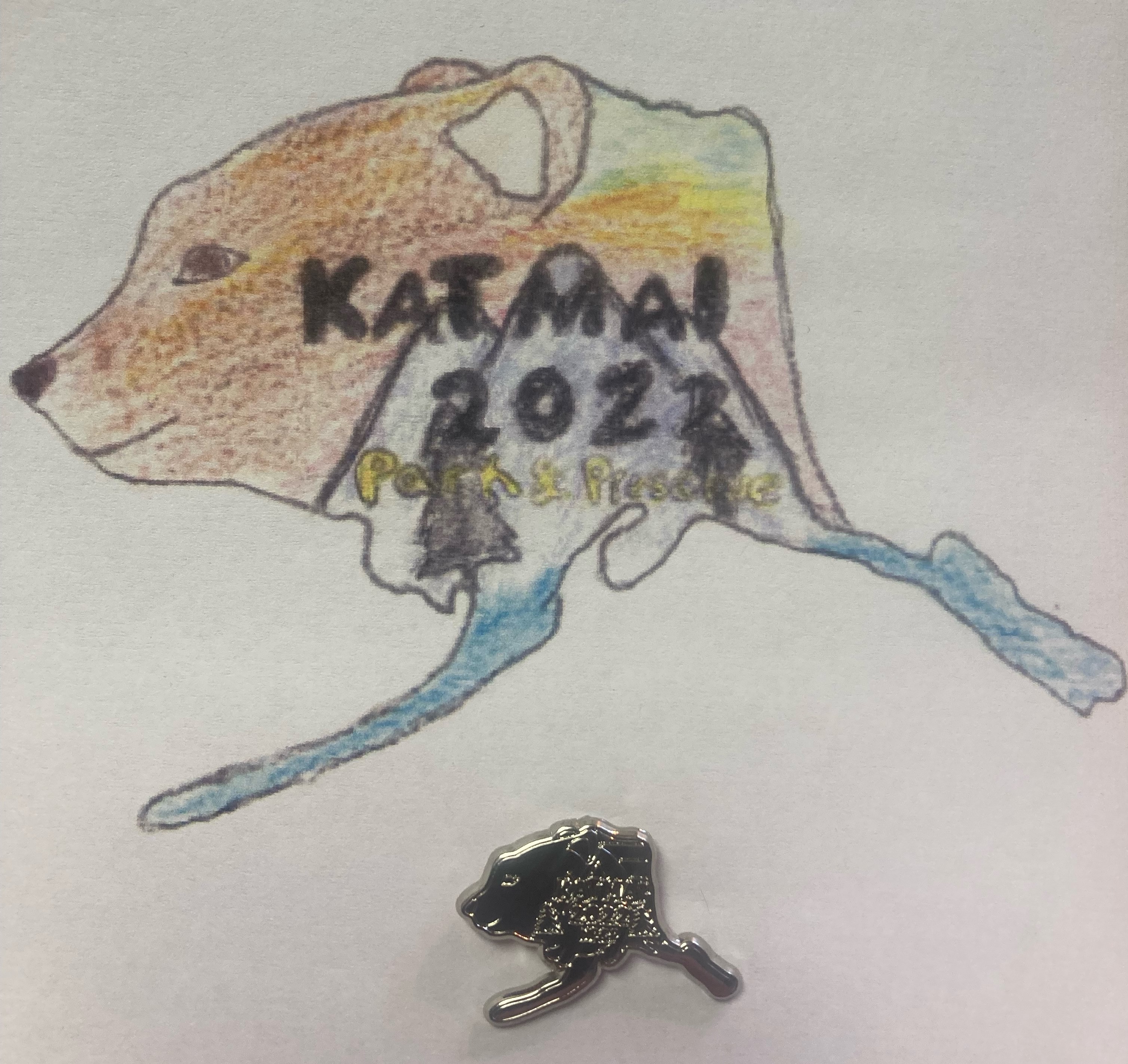 News Release Date:
June 5, 2022
Contact: Amber Kraft
KING SALMON, Alaska
– Katmai National Park and Preserve is "bear-y" excited to reveal the winning design for the 2022 Brooks Camp Bear Pins. We've wanted to shout it from the mountaintops! This year's design competition winner is Analise Kosbruk, a 13 year-old from Perryville, AK. According to Analise, "My great-great-grandparents came to Perryville from the Katmai area after Novarupta."
Her personal connection to the park and Alaska in general shone through in her design. In the shape of Alaska itself, the pin features a bear to the left, mountains on the upper right section and forests along the lower right. Again in the words of Analise, "Katmai is full of bears and I wanted the bear to be the face of Alaska, the mountains the back represent the nature of Katmai."
You can acquire the non-color version of the pin by visiting Brooks Camp and completing the mandatory bear safety training, also known as "bear school." Wearing this pin serves as a reminder to the visitor of their training and is a visual confirmation to park staff that the visitor has been through the training session. The limited-edition pin with color is a bear booster pin, awarded to visitors who exhibit especially responsible behavior around the bears. Analise told us, "I felt like participating in this contest because I like to draw and bring out my creative side."
Park rangers at the Brooks Camp Visitor Center began issuing bear orientation pins to Brooks Camp visitors on June 1. The Visitor Center is open 8 a.m. to 6 p.m. through September 17th, and 8 a.m. to 5 p.m. for the latter part of September.  
Last updated: June 5, 2022