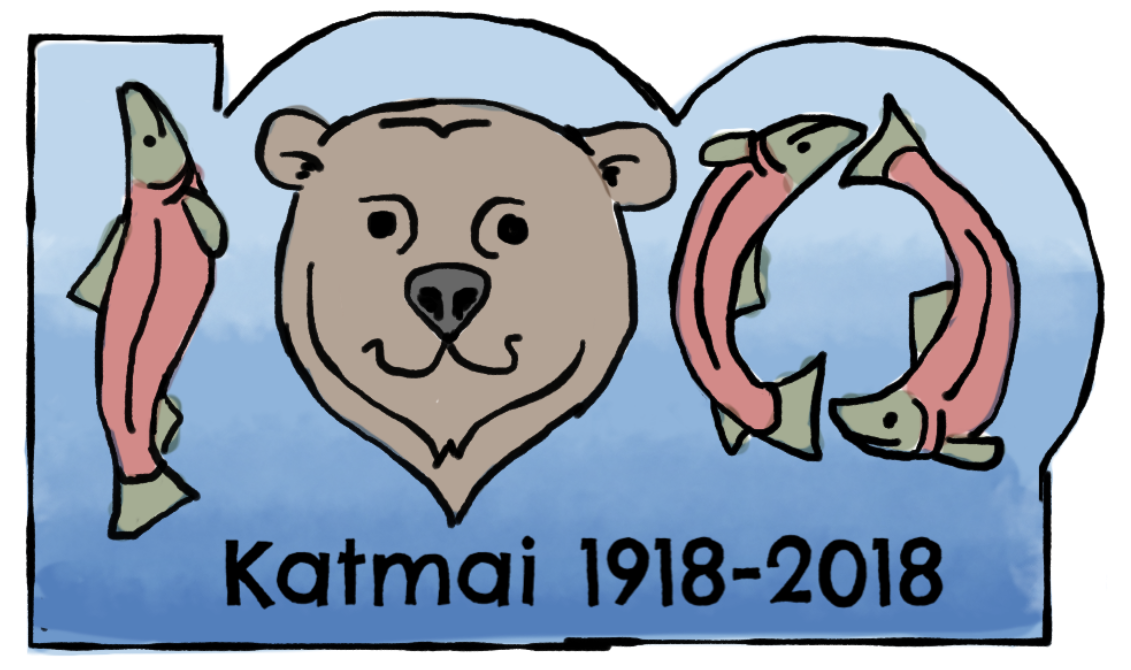 News Release Date:
March 20, 2018
Contact: Cathy Bell, 907-246-2122
Katmai National Park & Preserve, King Salmon, AK – A panel of National Park Service judges selected a design submitted by Naknek resident Ashlie Anderson as the winner of the 2018 Brooks Camp Bear Pin Design Competition.
Anderson's winning design features sockeye salmon and a bear face making up an abstract representation of the number 100—a nod to Katmai's centennial celebration, taking place this year.
"This is the second year that we've invited the community to submit designs for the bear pins," said Cathy Bell, Katmai's Chief of Interpretation and Education. "There's a lot of artistic talent in the Bristol Bay region, and it's great to see people get excited about the competition. This year's contest entries were especially fun because we asked entrants to come up with creative ways of referencing the park's 100th birthday."
A bear pin is awarded to any visitor who completes the mandatory bear etiquette training upon their first visit to Brooks Camp in a summer. The pin serves as a reminder of their training to each visitor, and is a visual confirmation to park staff that they have been trained. A limited edition full-color bear booster pin is also awarded to visitors who exhibit especially responsible behavior around the bears.
As visitation has increased over the years, the bear pin program has expanded. The pins have become popular collector's items. Over 10,000 visitors were awarded pins last season alone, so the lucky design winner will have the satisfaction of seeing their artwork being proudly worn around town this summer.
This is the second year in a row that Anderson has won the bear pin design competition.