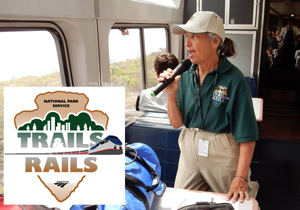 News Release Date:
January 15, 2015
Contact: Hale Sargent, 415-623-2344
Trails and Rails Program Expands to San Jose
All aboard! The Trails & Rails program -- a partnership between the National Park Service and Amtrak -- is expanding to San Jose and now recruiting local volunteer docents.
San Jose's Trails & Rails docents will ride in the observation car of the Amtrak Coast Starlight between San Jose and Paso Robles, delivering a program about California's history and landscape.
The Coast Starlight route parallels the Juan Bautista de Anza National Historic Trail, a program of the National Park Service that commemorates the Spanish colonial migration route to the Bay Area. The San Jose docents will join 17 active Trails & Rails programs across the country. 
Trails & Rails volunteers do not need to be historians or naturalists, but they must have an enthusiasm for public speaking and travel. Volunteers must be at least 18 years old with good mobility and available to make an average of two one-day trips per month between April and August. 
Uniforms, training, program materials, travel, and meals are all provided. (Transportation to/from the San Jose Amtrak Station and parking at the station are at the volunteers' own expense.)
Training: Saturday, Feb. 28, 2015
REGISTRATION REQUIRED
A required day-long volunteer training will take place
Saturday, Feb. 28, 2105 
10AM* - 5PM
Willow Glen Branch Library
1157 Minnesota Ave
San Jose, CA 95125
To register for the training, or for more information, contact Hale Sargent, Juan Bautista de Anza National Historic Trail, at hale_sargent@nps.gov or 415-623-2344. 
*If you did not attend our December 2014 orientation session, we may ask you to arrive early.
###
Online at https://www.nps.gov/JUBA