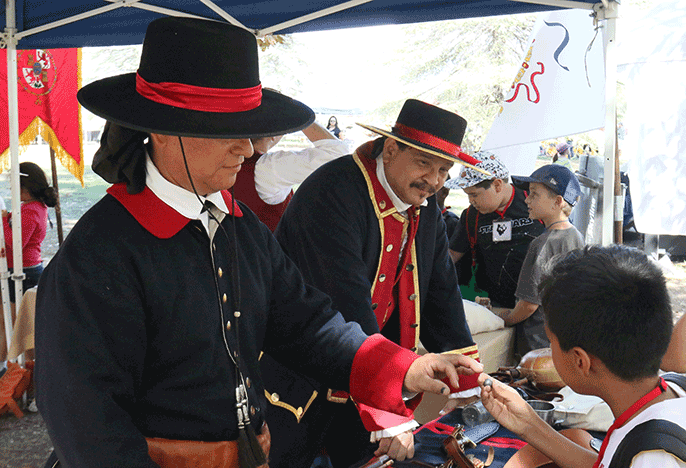 News Release Date:
April 25, 2016
Contact: Hale Sargent, 415-623-2344
A long-ago chapter of California history is deeply personal to Dennis Carlos of Nuevo, California.
"Being a second generation American, I had lost many of my family's cultural traditions," he says. "When I was younger I longed to recapture my lost cultural history, understanding who, what and where in my past."
Tracing the state's Hispanic heritage took Dennis all the way back to the roots of modern California and the Juan Bautista de Anza National Historic Trail.
And on Saturday, May 14, Dennis is celebrating that heritage in a first-of-its kind event for Los Angeles' Griffith Park—Anza Rides Again, a colorful re-enactment of the 1775-76 Anza Expedition. Dennis and a volunteer team of 15 equestrians will portray Spanish soldiers and their wives, depicting the arrival of settler families to Alta California.
Dennis participated in similar events in Arizona and San Francisco and decided Southern California should also commemorate its place along the 1,200-mile Anza Trail.
"Our state is full of exciting history and our group of re-enactors is dedicated to learning and teaching that history," he says. "Sharing and preserving the heritage of early California is one of our main goals."
The public is invited to watch the re-enactors' arrival at Griffith Park's Crystal Springs picnic area, where exhibitors will share the music, dance, dress, and wildlife of 18th century California. Tongva educators are helping plan the event to share about their culture and Native Californians' resilience in the face of colonization.
This will be the first such re-enactment ride in Griffith Park, one of the country's largest urban parks. The Anza Trail includes four miles of recreation trail along the park's perimeter;Griffith Park is located within the former land holdings of the Feliz family who arrived to California with the Anza Expedition.
Dennis has helped bring together the Los Angeles Department of Recreation and Parks, the National Park Service, and the nonprofit Friends of Griffith Park to support the event.
"Dennis is helping us reach a whole new audience in Southern California with a history that is literally beneath their feet," says Hale Sargent, park ranger for the Anza Trail. "The Anza Expedition predates the founding of Los Angeles, and introduced children, families, livestock, and surprising ethnic diversity to California."
Volunteering as a re-enactor has helped Dennis connect with his own cultural heritage, and says he is motivated to help others do the same.
"I like seeing people realize how historical and culturally diverse our state is," he says. "Helping people get closer to their own past is a wonderful feeling."
Anza Rides Again: Griffith Park Festival, May 14
Saturday, May 14
10AM - 2PM
Griffith Park, Crystal Springs Picnic Area
4730 Crystal Springs Dr.
Los Angeles, CA 90027
For more event information visit http://www.friendsofgriffithpark.org or https://www.nps.gov/JUBA
For a slideshow of images visit https://flic.kr/s/aHskwV8no5
###
#FindYourPark: 2016 is the National Park Service centennial year, a celebration of all parks and public lands in all their forms. How do you find your park? Visit http://www.findyourpark.com.