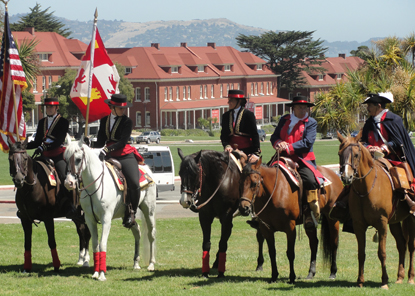 News Release Date:
June 17, 2013
Contact: Hale Sargent, 415-623-2344 or 510-542-0534 (cell)
MEDIA ADVISORY
June 27 Ceremony Marks Presidio of San Francisco's 237th Anniversary, Launches Interactive AnzaHistoricTrail.org

WHAT: Anza Expedition descendants and costumed youth on horseback deliver roll-call of San Francisco's first colonist families. Follow the route they traveled on a new interactive map: www.AnzaHistoricTrail.org
WHEN: Thursday, June 27, 2013, 11AM - 12PM
WHERE: Presidio of San Francisco, Main Post flagpole (Sheridan Ave. at Graham St.)

DETAILS:
In 1775-76, Captain Juan Bautista de Anza led more than 240 men, women, and children on a perilous overland journey from present-day Mexico to establish the Presidio of San Francisco—the first colonial settlement at San Francisco Bay.
The Juan Bautista de Anza National Historic Trail commemorates this important turning point in American history.
The Anza Expedition families arrived at the Golden Gate on June 27, 1776. Every June 27, Los Californianos—an organization of expedition descendants—delivers a roll call of their ancestors to commemorate the founding of the Presidio. This year's ceremony features as its backdrop a color guard of costumed youth and adults, including the Walnut Creek-based equestrian group Amigos de Anza.
Also at this year's ceremony, the Juan Bautista de Anza National Historic Trail and the Anza Trail Foundation announce the official launch a new online Anza Trail experience—www.AnzaHistoricTrail.org.
The website connects communities along the Anza Trail with history, culture, and outdoor recreation. More than 36 million people live along the present-day corridor of the Anza Expedition. The website's backbone, a cutting-edge map developed by the nonprofit GreenInfo Network, allows users to create their own Anza Trail experience:
• Zoom to street level to see where the expedition party traveled
• Locate local Anza Trail interpretation sites, recreation trails, and auto tour route
• Follow an animated timeline to read expedition diaries in English and Spanish
• Users are also invited to help document and share the Anza Trail story. By launching the site's MapCollaborator portal, they can add and edit information and photos directly on the map.
###

About the Anza Trail
The Juan Bautista de Anza National Historic Trail commemorates the 1775-76 colonizing expedition of the more than 240 men, women and children who journeyed across the frontier of New Spain to settle Alta California. As a unit of the National Park Service, the Anza Trail connects history, culture and outdoor recreation along a 1,200-mile corridor from Nogales, Arizona, to the San Francisco Bay Area. For more information visit www.AnzaHistoricTrail.org.
About the Anza Trail Foundation
The Anza Trail Foundation, a nonprofit 501(c)(3), raises visibility and promotes knowledge of the epic 18th century expeditions of Juan Bautista de Anza and preserves the Anza National Historic Trail through collaboration and partnering with organizations and individuals. For more information visit www.anzatrailfoundation.com.  

Media/Publicity Kit of Anza Trail Logos, Maps, and Images
http://flic.kr/s/aHsjEXDq3y
 
Top 10 Features of the New Website www.AnzaHistoricTrail.org
10. Search an address for nearby Anza Trail resources, routes, and recreation trails
9. Zoom to the street level to see if the expedition would have passed by your house
8. Create custom maps of the trail in your community; send a link of your map to your friends
7. Play an animated expedition timeline 
6. Read excerpts of the expedition diaries in English and Spanish (courtesy of Web de Anza)
5. Read 19 county-specific guides to the Anza Trail (developed by Anza Expedition descendant Greg P. Smestad, Ph.D.)
4. Watch the film, The Anza Expedition, in English or Spanish
3. Find upcoming cultural and recreation events along the trail, and download Noticias de Anza, the trail's quarterly electronic magazine
2. Connect with the Anza Trail Foundation; AnzaHistoricTrail.org also serves as a site for the official nonprofit fundraising partner of the Anza Trail
1. Be part of the story: Add your information or photos of trail resources using the MapCollaborator portal