Human Waste & Trash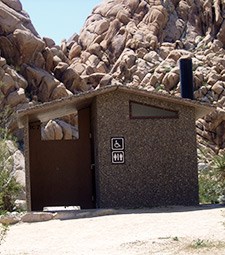 Human Waste
Please use the toilets located near most crags. If you can't, follow these guidelines:
Urinate on rocks, not plants, because animals will defoliate plants and dig up soil to get to the salt deposited with your urine.
Bury the brown stuff in a 4-6-inch hole dug in a sunny place at least 200 feet from water, washes, rock shelters, climbing routes, and bouldering problems. Wildlife will dig up soiled toilet tissue, so bring a bag and pack it out.
Trash: Pack it out, even if it isn't yours.
It's easy to carry an extra bag for trash. A quick visual sweep of an area is a good way to ensure that you are not forgetting anything.

It can take up to 18 years for a cigarette to decompose in the desert. Orange peels, apple cores, pistachio shells, tape, fruit stickers, and the sock you sacrificed are all trash.
Last updated: April 24, 2017