Slacklining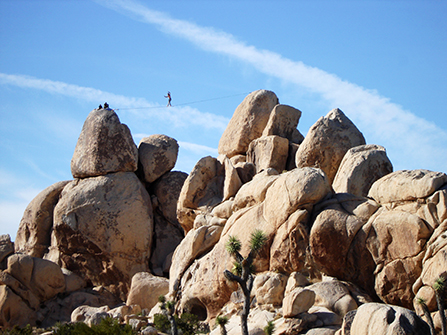 Highlining and slacklining are increasingly popular activities in Joshua Tree that involve balancing and walking along a length of webbing stretched between two anchor points. For safety, highliners should wear a climbing harness leashed to the main line. To protect park resources, and especially Joshua trees, please observe the following rules:
Slacklines may be attached to rocks, but not to vegetation. Joshua trees have shallow root systems and cannot handle the torque that a tight line requires.
Slacklines are not permitted in campgrounds because of safety concerns and damage to park resources. Improperly placed slacklines have broken picnic tables, toppled Joshua trees, and dislodged bulletin boards.
Unattended slacklines and fixed lines will be removed by rangers and the owner will be cited.