Climbing Safety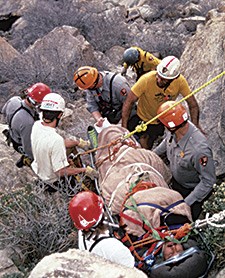 Rock climbing has inherent risks and climbers assume complete responsibility for their own safety. The National Park Service does not maintain fixed anchors. We recommend that you climb with a partner and wear a helmet.
Be Prepared
Joshua Tree National Park is a maze of cliffs, canyons, washes, and boulders. The logistics of a rescue require time to dispatch members of the Joshua Tree Search and Rescue team, which may take several hours and require a long hike. Do not expect a hasty rescue; be prepared with extra water; clothing, food, and a first-aid kit.
Emergencies
In an emergency call the park dispatcher direct at 909-383-5651, or call 911. Be prepared with the names of the rock formation and climbing route, the nearest landmark, and a meeting place so that responders can be directed to the accident site.
Cell phone service is patchy and unreliable in much of the park. One emergency-only phone is attached to the bathroom in the Intersection Rock parking area next to Hidden Valley Campground. A second emergency-only phone is located at the ranger station at Indian Cove. Assistance is available at entrance stations and visitor centers, when they are open.
Please report all climbing related injuries to park dispatch at 909-383-5651, even those that do not require assistance.
Last updated: April 24, 2017