Backcountry Roads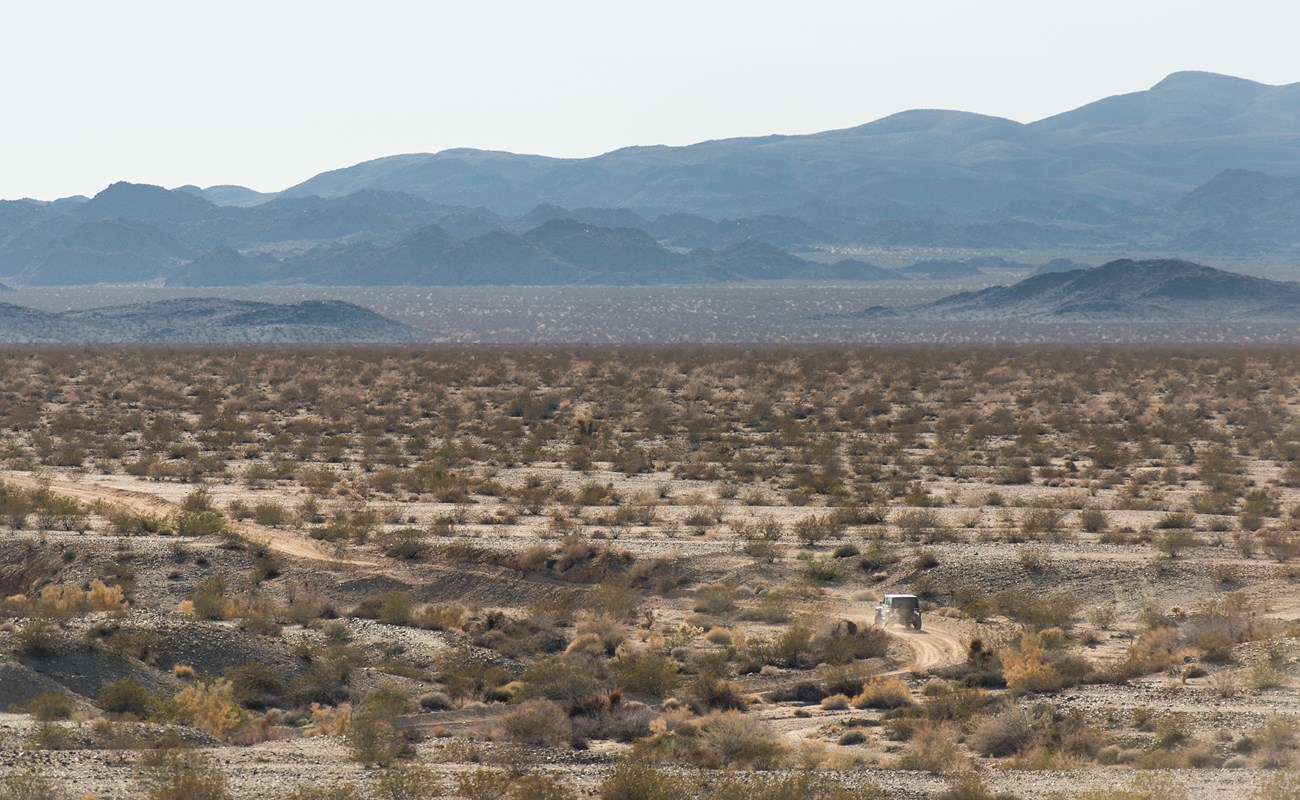 The Road to Adventure
Joshua Tree offers many miles of backcountry dirt roads for four-wheel drive vehicles and mountain bikers to explore. With over 1,000 square miles (2590 km) of designated wilderness, these roads provide a glimpse into undeveloped and seldomly viewed parts of the park. They give visitors opportunities for exploration, solitude, and adventure. However, before you travel on these roads, plan ahead and prepare. It could save your life.
Safety and Responsibility
Pre-trip Planning
Leave a detailed trip plan with a reliable friend or family member.
Backcountry roads in the park can vary in difficulty. Before traveling, gather information about the route and identify if recent weather events have altered the typical road conditions.
Carrying the Right Supplies
Carry plenty of extra food, water, clothing, headlamp, sleeping bag, and necessary medications in case a rescue is delayed.

Vehicles should be stocked with a fully-inflated spare tire and equipment to allow for a self-rescue including (but not limited to) a jack, lug wrench, shovel, tow strap, traction board, and basic tools.

Ensure your vehicle has plenty of gas in the tank before starting on a backcountry road. Vehicles often use gas faster when traveling in challenging offroad conditions. You may need to rely on your vehicle's climate control in a rescue scenario.

Along with GPS, we recommend carrying detailed maps. Topographical maps are available on our Maps webpage. Printed detailed maps are available for purchase at park visitor centers.

Cell phone reception is very limited in the national park. Carrying a satellite communication device is recommended.
Travel Smart
Travel in groups of two or more 4WD vehicles in remote areas and on rough roads.

Exercise caution when approaching terrain you're uncomfortable with, and be prepared to turn around when necessary.

If your vehicle breaks down, be aware that a rescue will likely be delayed and can take many hours or sometimes days. It is typically best to stay with your vehicle for shelter, air-conditioning, and to be easily spotted by rescue services. If wandering from your vehicle, high visibility clothing is recommended and can be more easily spotted by a rescue team.

If you spot a driver needing assistance, report them to the nearest visitor center or park employee, or if you are comfortable, help the driver.

Traveling on backcountry roads in the summer adds additional risk. Daytime high temperatures are typically near or above 100 °F (38 °C). Carry extra ice and water to cool yourself off in case the air conditioning becomes inoperable.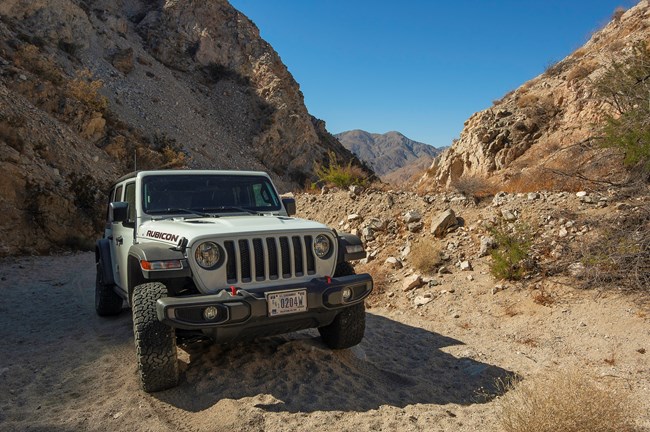 Rules and Regulations
All vehicles must remain on designated roads. Driving off designated roads is illegal and can destroy vegetation, fragile soil crusts, and animal burrows (including the federally-threatened desert tortoise). Vehicle tracks left behind last for years and can spoil the wilderness experience for others.

ATVs, UTVs, OHVs, and dirt/motocross bikes are prohibited. All vehicles and dual-sport motorbikes must be registered and street-legal according to California state laws.

Car camping, dispersed camping, fires, vegetation collection, drone use, or shooting are prohibited on backcountry roads.

Pets are permitted on backcountry roads but may not travel beyond 100 feet (30.5 meters) of the road and must remain on a leash.

Park roads are open 24/7. However, camping along the backcountry roads is prohibited. For a list of designated campgrounds, check out our Campgrounds webpage.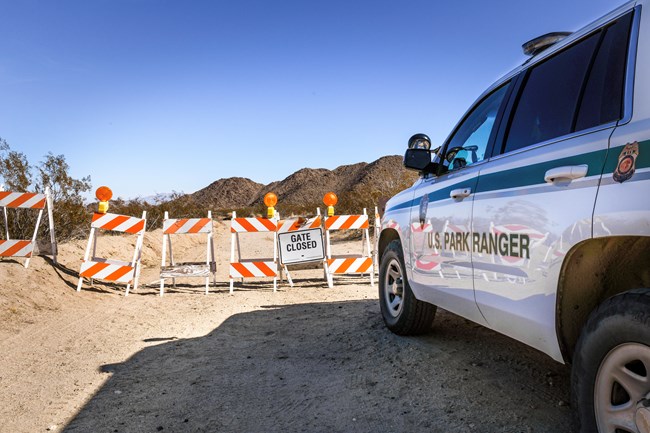 Seasonal Restrictions & Closures
Backcountry dirt roads can be affected by rain storms. After significant rain events, it is common for roads to be temporarily closed due to flood damage. When this happens, we will work to reopen the roads as soon as possible.

When roads are closed, do not drive around the locked gate. Driving on wet, flood-damaged roads can further damage the roadway. Violators will be ticketed.

Road closures are listed on our Alerts and Conditions webpage.
Backcountry Roads
Some roads require high clearance, 4-wheel-drive vehicles. Some roads only require 2-wheel drive and are accessible for most vehicles. Know which type of road you are getting into before heading out.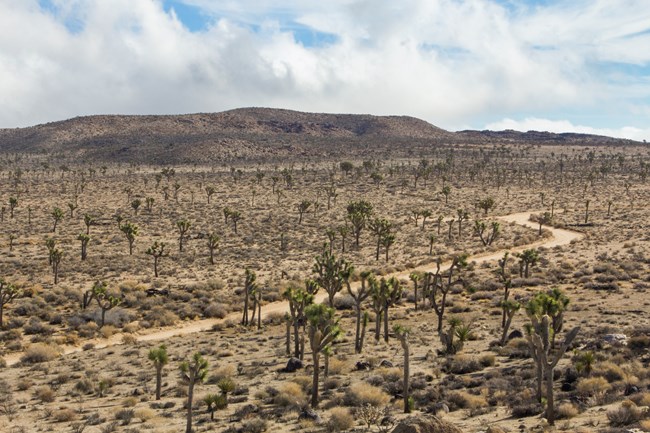 Queen Valley Roads
This network of roads totals 13.4 miles (21.7 km) and includes Queen Valley Road, Big Horn Pass Road, and O'Dell Road. These roads cross through Queen Valley and offer great views of boulder piles, Joshua trees, and Queen Mountain. A bike trip can begin at Barker Dam or Big Horn Pass, opposite Geology Tour Road. Bike racks have been placed in this area so visitors can lock their bikes and go hiking. These roads are suitable for most 2-wheel-drive vehicles.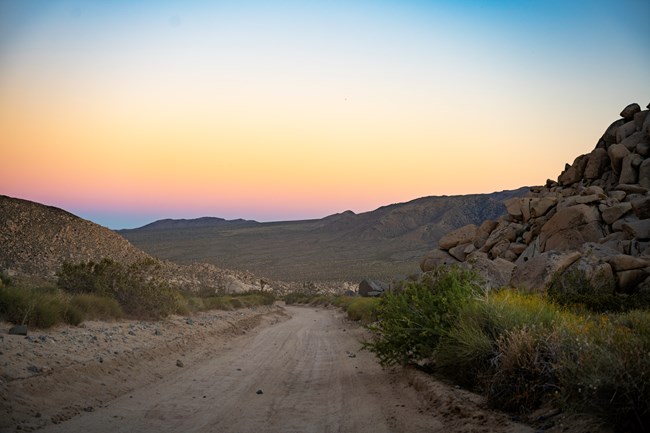 Geology Tour Road
High Clearance and 4-Wheel-Drive Required
The road turns south from the paved road two miles (3.2 km) west of Jumbo Rocks Campground. The distance from the junction to Paac Kü̱vü̱hü̱'k (pronounced paach kurv-er-hurk) is 5.4 miles (8.8 km). This section is mostly downhill but bumpy and sandy. Starting at Paac Kü̱vü̱hü̱'k, a 6-mile (9.7-km) loop route explores Pleasant Valley and offers views of the surrounding mountains.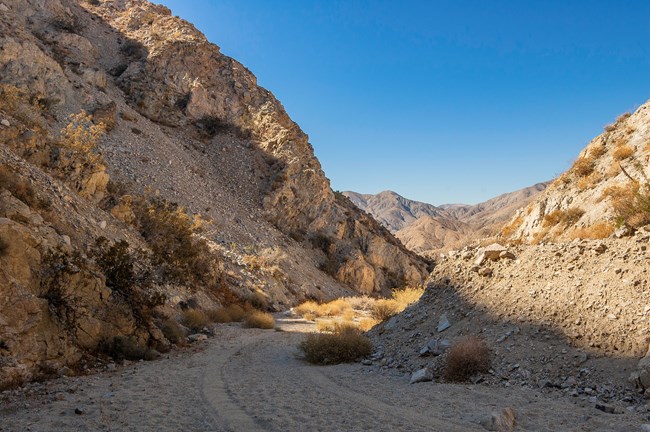 Berdoo Canyon Road
High Clearance and 4-Wheel-Drive Required
This 11.5 mile (18.4 km) road travels through Berdoo Canyon and connects the south end of Geology Tour Road with Dillon Road. The walls of the canyon rise steeply and provide a beautiful backdrop to a unique backcountry experience - especially in the morning or evening light. The route contains deep sand, sharp bedrock, and rough boulders. There is a rugged 'pinch' created by bedrock in the northern canyon, and another created by large boulders mid-canyon that may deny passage to full-size trucks.

The last 3.9 miles (6.24 km) to Dillon Road winds past the ruins of the Berdoo Camp, which was established in the 1930s by builders of the California Aquaduct. Remnant segments of the historic paved road are scattered throughout the lower canyon area. Drivers should not travel on this road without a high clearance, 4-wheel-drive vehicle and emergency supplies.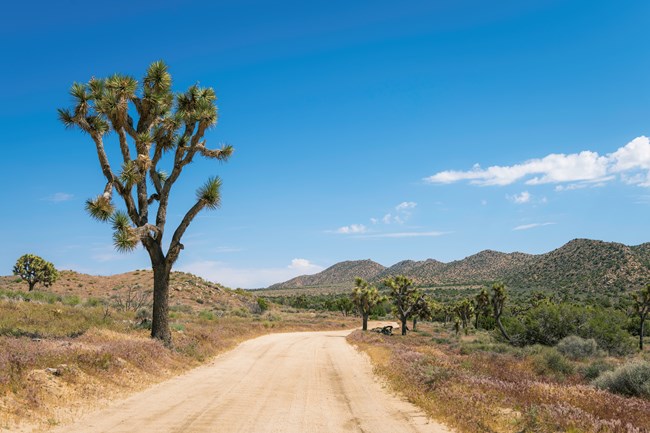 Covington Flat Roads
High Clearance and 4-Wheel-Drive Required
The dirt roads in Covington Flat offer access to some of the park's largest Joshua trees, junipers, and pinyon pines. From the Lower Covington Flat picnic area to Eureka Peak is 3.8 miles (6.2 km) one way. The dirt road is steep near the end, but the top offers views of Palm Springs, the surrounding mountains, and the Morongo Basin. You can add 6.5 miles (10.5 km) to your trip if you ride or drive over to the backcountry trailhead at Upper Covington Flat. This a great stopping point to get out and hike the Covington Crest Trail, a 1.5 mile (2.4 km) trek to a vista point overlooking the Palm Springs area.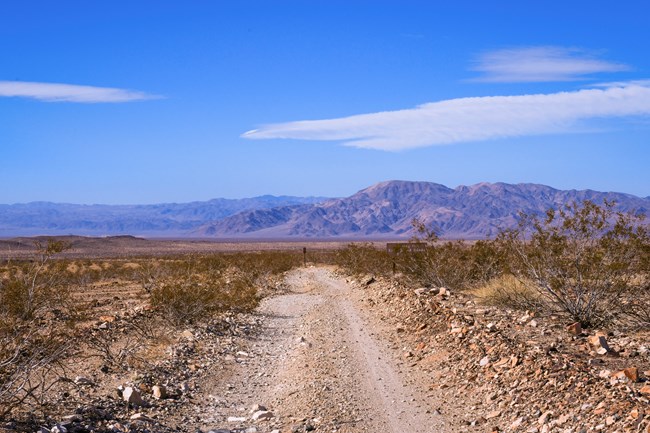 Black Eagle Mine Road
High Clearance and 4-Wheel-Drive Required
Beginning 6.5 miles (10.5 km) north of Cottonwood Visitor Center, this dead-end dirt road runs along the edge of Pinto Basin, crosses several dry washes, and winds through canyons in the Eagle Mountains. The first 9 miles (14.5 km) are within the park boundary. The middle segment contains some of the deepest sand in the park and may require drivers to air down their tires. There is a steep and loose wash-crossing about three-quarters of the way to the park boundary. Beyond the park boundary is Bureau of Land Management land and several side roads. Old mines near these roads may be too dangerous to approach. The route contains passages that may deny larger vehicles. Drivers should not travel on this road without a high clearance, 4-wheel-drive vehicle and emergency supplies.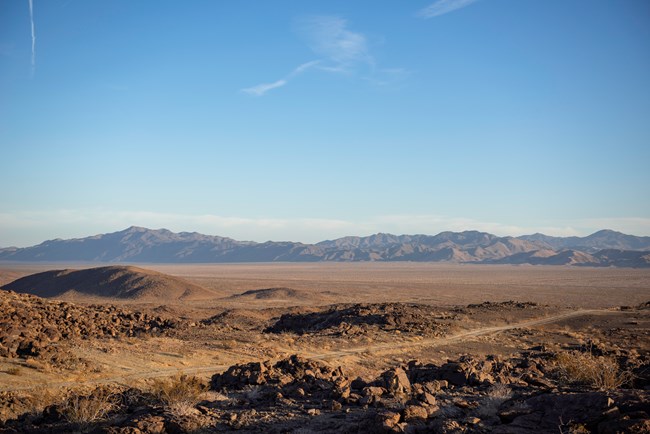 Old Dale Road
High Clearance and 4-Wheel-Drive Required
This 23-mile (37.3 km) road starts at the same point as Black Eagle Mine Road. The first 11 miles (17.8 km) across Pinto Basin, a flat, sandy, dry lakebed containing sections of deep sand. The road then climbs a steep hill and exits the national park. The hill and the next several miles afterward are some of the most technical and rough 4x4 segments in the greater area. Larger vehicles may be denied passage. The road is eroded and composed of large, loose, and sometimes sharp rock with steep drop-offs. A washout on the last climb out of the park boundary may be impassible to vehicles without a short wheelbase. Several side roads veer off toward old mines and residences. The main road leads to HWY 62, 15 miles (24.3 km) east of Twentynine Palms. Drivers should not travel on this road without a high clearance, 4-wheel-drive vehicle and emergency supplies.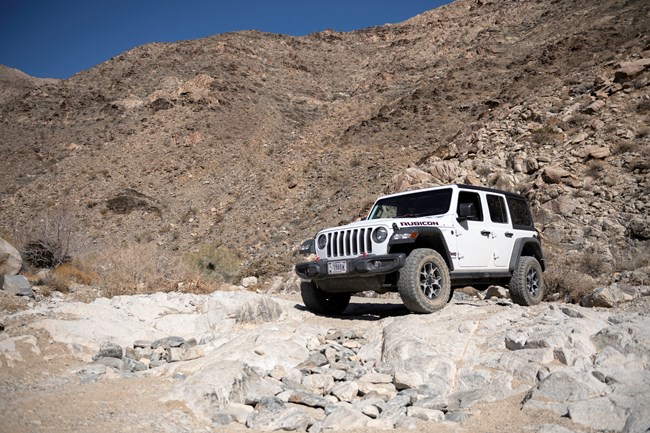 Pinkham Canyon & Thermal Canyon Roads
High Clearance and 4-Wheel-Drive Required
This challenging ~20-mile (32.4 km) road network offers several route options and great views of a unique area of the park. Heading west from the Cottonwood Visitor Center, Pinkham Canyon Road leaves behind the iconic monzogranite rock formations of the park on a well-compacted, brushy route crossed by frequent washes and sharp road cuts. As the road turns south into Pinkham Canyon, it transitions to stone cobble and sandy wash. This section contains rough boulders and deep sand. A pinch point of boulders may be impassable to larger vehicles in the upper canyon.

Alternatively, instead of heading south into Pinkham Canyon at the junction, drivers can turn west onto Thermal Canyon Road. The first few miles of this road pass through a winding wash, and there is a short, steep section with significant erosion. The route contains loose, deep sand and passages that may deny larger vehicles. The south ends of Pinkham and Thermal Canyons can be accessed directly via frontage roads from I-10 West to create a shorter loop, or an out-and-back route in either canyon. Drivers should not travel on these roads without a high clearance, 4-wheel-drive vehicle and emergency supplies.


Last updated: March 9, 2023