Reward Offered for Information About Tortoise Death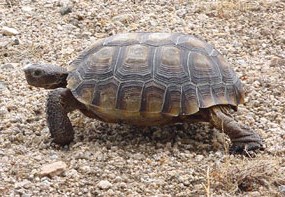 A reward of up to $5,000 is being offered for information leading to the arrest and conviction of the person or persons responsible for the death of a desert tortoise in Joshua Tree National Park last month. The carcass of a burned desert tortoise was found on August 4th in a fire grate within a campsite at Black Rock Campground, which is located on the edge of the community of Yucca Valley, California.
National Park Service Rangers are investigating the death of the tortoise and anyone with information about the case is asked to call the park at 760-367-5541. All callers will remain anonymous. The desert tortoise is considered a threatened species under the federal Endangered Species Act and is protected under California wildlife statutes as well. The desert tortoise is also California's state reptile.
Organizations making contributions to the reward fund include the Humane Society of the United States ($2,500), the Defenders of Wildlife ($1,500), and Joshua Tree Tortoise Rescue ($1,000). Based in Washington, D.C., the Humane Society of the United States is the nation's largest animal protection organization representing more than nine million members and constituents. The Humane Society is a mainstream voice for animals, with active programs in companion animals and equine protection, disaster preparedness and response, wildlife and habitat protection, animals in research, and farm animal welfare.
Defenders of Wildlife is dedicated to the protection of all native animals and plants in their natural communities. With more than one million members and activists, Defenders of Wildlife is a leading advocate for innovative solutions to safeguard our wildlife heritage for generations to come. Based in Washington, D.C., with regional offices throughout the country including California, Defenders of Wildlife is an active partner with the California Desert Managers Group and supports ongoing education and public outreach programs that promote tortoise conservation and recovery.
Joshua Tree Tortoise Rescue is a non-profit, grassroots organization offering refuge, rehabilitation, and adoption programs for rescued and special needs turtles and tortoises. They work closely with local communities to educate people about the importance of preserving protected turtle and tortoise species within their natural environments.
Desert tortoise populations in unprotected desert areas have experienced significant declines in recent years. Tortoise habitat has declined because of the significant development that has occurred in desert communities. Tortoises suffer from human-transmitted diseases such as Upper Respiratory Tract Disease. They die from being run over crossing public roads and from being run over by illegal off-highway vehicles. Predators such as ravens, coyotes, and free-roaming dogs maim and kill tortoises. And, tortoises are sometimes removed from their home range by illegal collectors.
People can help desert tortoise recovery efforts by observing these long-lived creatures from a distance. It is illegal to handle desert tortoises except when they are in imminent danger from being crushed by a passing car. It is also illegal to collect desert tortoises. Captive tortoises often carry diseases that can spread to native populations, so they should never be returned to the wild. Visitors to desert areas should only drive on designated roads and should not allow their pets to run loose. For further information about desert tortoises and tortoise recovery efforts visit: www.deserttortoise.gov.
Last updated: February 28, 2015