Pinto Basin Road Construction Completed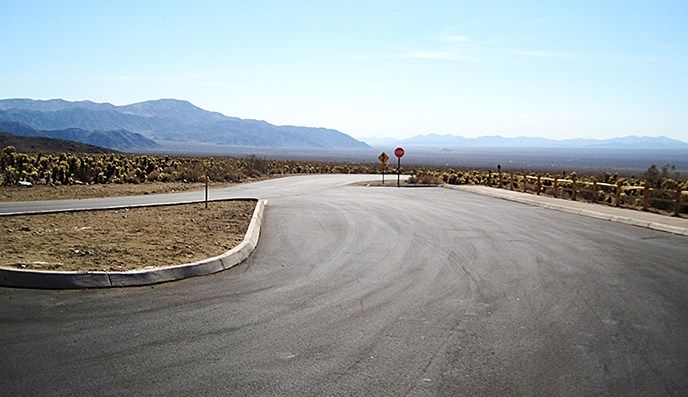 Release Date: July 17, 2013
Contact: Jennie Kish Albrinck, 760-367-5520
The National Park Service and Federal Highway Administration have announced completion of the rehibilitation of approximately 12 miles of the Pinto Basin Road, including improving the sight distance of the heavily visited Cholla Cactus Garden.
Begun in February 2013, the project involved close cooperation between Joshua Tree National Park, the Federal Highways Administration, and Granite Construction Company, the contractor who accomplished the project. Construction work on the project was completed on July 8, 2013.
The purpose of the rehabilitation project was to increase visitor safety and provide improved road stability by reconditioning the road surface, improving and rehabilitating drainage features, repairing flood damaged segments of roadway, realigning short segments to improve traffic visibility, and making minor adjustments to the road width to accommodate today's wider vehicles and more safely allow bicycles to use the road shoulder. The project also corrected long standing traffic safety problems at the heavily visited Cholla Cactus Garden. Other vista points and turnouts were also enhanced.
At a ribbon-cutting ceremony held at the Cholla Cactus Garden on Monday, July 15, Park Superintendent Mark Butler thanked park visitors and local residents for their patience with the travel delays they may have experienced during the reconstruction period. Butler stated, "This simple gathering gives us time to pause, reflect, and appreciate the accomplishment of this road rehabilitation project and to acknowledge the hard work of the Federal Highways Administration, Granite Construction, and park staff that allowed it to be completed under budget, safely, and ahead of schedule."
Protecting park resources while providing for minimal inconvenience to park visitors during the busy spring visitation period was a primary goal of the project team. Realignment near the Cholla Cactus Garden required the relocation of 800 teddy bear cholla, also known as jumping cholla.
Visitors can now travel more easily and safely to or from the Cottonwood Spring area and southern boundary of the park. Improvements along the road also include easier access to interpretative waysides and scenic viewpoints. Parking pullouts have been enlarged to accommodate charter and school buses, as well as larger recreational vehicles.
The project was funded by Central Federal Lands Office of the Federal Highways Administration and it was awarded as the first National Park Service project under "MAP-21 program" to Granite Construction Company, on January 22, 2013. The project had an estimated construction cost of $7,344,824.
Joshua Tree National Park invites local residents and park visitors to experience the improved Pinto Basin Road and enjoy its interpretative signs and scenic viewpoints.

Last updated: February 28, 2015