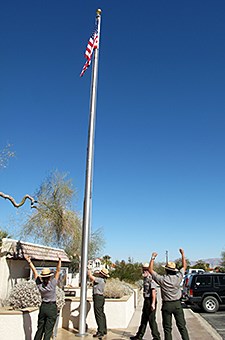 Release Date: October 17, 2013
Contact: Jennie Kish Albrinck, 760-367-5520
Joshua Tree National Park, which has been closed since October 1, 2013 due to the lapse in Congressional appropriations, will reopen to visitors today. Most public areas and roads will be immediately accessible while park staff work to bring facilities and other public services back online.
"We are excited happy to be back at work and welcome visitors to Joshua Tree National Park," said Superintendent Mark Butler. "Autumn is a particularly special season to enjoy all that Joshua Tree has to offer, and also marks the beginning of our busy season."
Park visitor centers at Joshua Tree, the Oasis of Mara in Twentynine Palms, Cottonwood, and Black Rock were open by noon today. Maintenance crews were hard at work this morning prepping campgrounds for opening. As of 1 pm all but Jumbo Rocks are open and available for use.
Interpretive programs will resume on Saturday, October 26, 2013. Keys Ranch programs for this week will be conducted for previously scheduled tours. Any tours that were missed while the park was closed will be either rescheduled or refunded.
A portion of Park Boulevard remains closed due to storm damage that occurred September 7, 2013. The section from the north entrance, near the Oasis Visitor Center, to the turn-off to Cottonwood will remain closed until further notice. Jumbo Rocks Campground is also still closed for repairs due to the effects of the same storm.
Butler stated, "We are proud of the partnerships Joshua Tree National Park has with the communities surrounding the park and in the region, and we look forward to working cooperatively to mitigate the financial impacts of the closure. We are grateful for your patience, and that our community partners and park visitors honored the park closure. We are all looking forward to a wonderful fall and winter season at Joshua Tree."