Joshua Tree Peak Named For Park Founder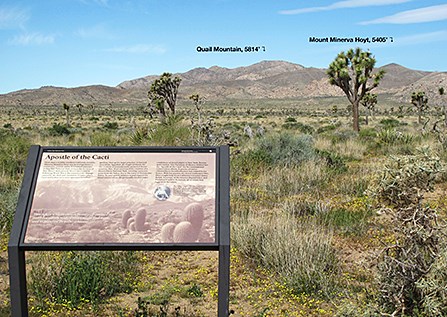 The U.S. Board of Geographic Names (BGN) has voted to adopt the name Mount Minerva Hoyt for a peak within Joshua Tree National Park. The previously unnamed 5,405 foot mountain is located in the west central portion of Joshua Tree not far from the park's highest summit, Quail Mountain. The action by the Board of Geographic Names came at a meeting in late August. The decision by BGN acknowledges the central role that Minerva Hamilton Hoyt (1866-1945) played during her 1930s campaign to bring the Joshua Tree area into the National Park System. As a pioneering desert conservationist, as an early female figure in the conservation movement, and as an example of the power of citizen action, Hoyt, the "Apostle of the Cacti," left a lasting legacy that continues to benefit California and the entire nation.
The Board of Geographic Names is a federal body created in 1890 operating under the U.S. Geological Survey. The BGN maintains a uniform list of official geographic place names on federal lands within the United States and its territories. The BGN also establishes policies, principles, and procedures governing naming of geographic features that include domestic names, foreign names, Antarctic names, and names of undersea features.
The BGN had received one earlier proposal in 1979 from Robert and Maureen Cates to name a peak in the park for Mrs. Hoyt, but naming proposals to honor Minerva Hoyt have run up against a general Board policy against commemorative naming of natural features in wilderness. With nearly 80% of the park's land classified as wilderness, proponents have found it difficult identifying a suitable landmark outside of wilderness boundaries that would reflect the magnitude of Minerva Hoyt's tireless efforts on behalf of what became Joshua Tree National Monument, created by Presidential Proclamation on August 10, 1936. The original national monument was re-named Joshua Tree National Park with passage of the Desert Protection Act on October 31, 1994.
The current proposal, submitted in 2004 by Joshua Tree resident and park employee Joe Zarki, was also tabled for a number of years as the mountain selected is situated within Congressionally authorized wilderness. The Board's naming policies provide for exceptions in cases where a significant public educational benefit is achieved by allowing the naming of a wilderness landmark for a specific person. With a strong supporting statement by current Joshua Tree National Park Superintendent Mark Butler and the endorsement of the agency's Office of Policy, the BGN voted 8-3 in favor of the proposal to designate Mount Minerva Hoyt.
The park is planning a dedication ceremony for March, 2013 to coincide with Minerva Hoyt's birthday. She was born in Holmes County, Mississippi on March 27, 1866. For more information contact Joshua Tree National Park Chief of Interpretation Joe Zarki at 760-367-5520.
Last updated: February 28, 2015