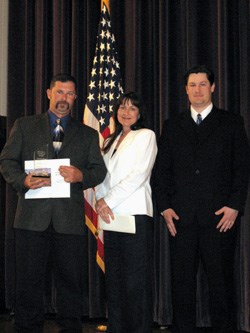 Joshua Tree National Park Trails Supervisor Kenneth Hornback received the Jed Davis Leadership Award in ceremonies held in Washington D.C. on May 24, 2007. The award recognizes an outstanding graduate of the National Park Service Facility Manager Leaders Program (FMLP).
The nomination process asked the FMLP students to select the peer who best met the following criteria:
exhibited exemplary leadership qualities, while maintaining an approachable, professional demeanor;
was the greatest role model for excellence in leadership;
showed dedication to their position, their staff, their park, and their overall vision for these things;
demonstrated a commitment to continual personal improvement and the improvement of their job performance, skills, and growth.
The award was established in honor of Jed Davis, former deputy superintendent at Wrangell-St. Elias National Park. Hornback received the award from Jed's widow, Nancy Davis.
Hornback's was the first class of the FMLP. The year-long course of study was developed in partnership with the Eppley Institute for Parks and Public Lands at Indiana University. The FLMP included four residential classes, details to mentors' parks, independent study, and work on a variety of projects to help fulfill each individual's career-development needs. Fifteen employees completed the program, earning 25 Continuing Education Units (CEU's), which is the equivalent of a Master's Degree.
Ken Hornback has been the trails supervisor and youth program coordinator at Joshua Tree National Park for the last seven years. He enjoys working with the young people from the Youth Conservation Corps (YCC) who come each summer to help perform maintenance on the park's trails. Upon receiving the award, Ken noted "I was very touched to be nominated by my peers. It means so much to be nominated by this talented group of dedicated NPS employees."
On hand to watch Ken receive his award were his wife, Susanne, and their two daughters, Haley, 9, and April, 7. Also present were Ken's mother-in-law, Joanne Shields, his current supervisor, Chief of Maintenance John Slaughter, and Ken's former supervisor at Joshua Tree, Harry Carpenter.