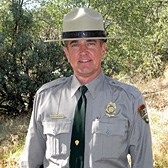 The National Park Service announced that Kevin Hendricks has been appointed the acting superintendent at Joshua Tree National Park. Hendricks, currently the chief ranger at Sequoia and Kings Canyon National Parks, will become the second interim superintendent at Joshua Tree. He replaces Lizette Richardson who has returned to her position as Chief of Maintenance and Engineering at Lake Mead National Recreation Area. The job of superintendent at Joshua Tree National Park became vacant with the retirement of Curt Sauer on September 30. The selection of Hendricks as acting superintendent was made by the Pacific West Region's Associate Regional Director for Park Operations Martha Lee.
Kevin Hendrick's tenure as acting superintendent begins Wednesday, December 1, and is expected to last 60 days. As acting superintendent, he will oversee operations for the 794,000-acre national park that receives 1.3 million annual visitors, has a $6.2 million annual budget, and a staff of 144 permanent and temporary park employees. "Joshua Tree is a fantastic park and I'm excited about this opportunity," said Hendricks. "I spent a great deal of time at Joshua Tree climbing, camping, and exploring in the late 1970s and early 1980s, and I'm looking forward to experiencing the park once again."
A California native, Hendricks received a Bachelor's degree in zoology from the University of California-Berkeley in 1984. He began his National Park Service career as a volunteer in the Bear Management Program at Yosemite National Park. Hendricks worked various seasonal and temporary positions including a stint as a park ranger for the Bureau of Reclamation in California before returning to the National Park Service.
After several seasons as a protection ranger at Lake Mead National Recreation Area, Hendricks received his first permanent appointment at Fort Pulaski National Monument in Georgia during which time he attended the Federal Law Enforcement Training Center in Brunswick, Georgia. He returned to Lake Mead as a protection ranger and eventually rose to become deputy chief ranger. From Lake Mead, Hendricks transferred as to Olympic National Park where he was appointed chief ranger in 2007. In April, 2009, he accepted his present position as chief ranger at Sequoia and Kings Canyon National Parks in Three River, California.
Acting Superintendent Hendricks was a member of the National Park Service Pacific West Region Special Events and Tactical Team for many years, and he gained experience with a variety of assignments, special events, and emergency incidents. He has participated in the Pacific West Region's Ranger Advisory Committee and currently serves on the National Park Service Wilderness Leadership Council.