Snow Closes Park Roads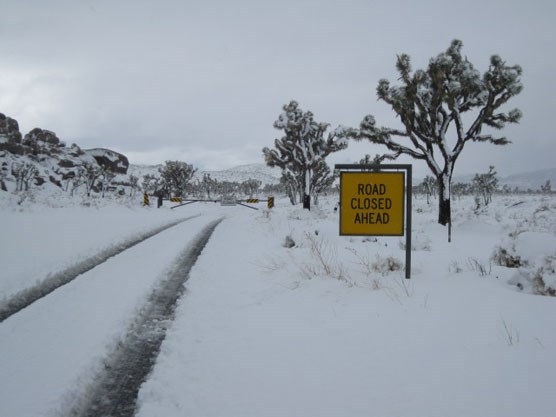 With the arrival of a cold front last night that brought up to 12 inches of snow in some areas, several park roads were closed for visitor safety while snow removal is in progress.
The roads closed include Park Boulevard from Jumbo Rocks Campground to West Entrance and the roads that are accessed from the closed portion of Park Boulevard, including Keys View Road. In addition all roads in the Covington Flats area are closed.
These roads will remain closed Thursday night, February 16. On Friday, park rangers will determine if Park Boulevard and other roads are safe for visitors to use during the upcoming President's Day holiday weekend.
Pinto Basin Road is fully open and visitors can travel between Interstate 10 and Twentynine Palms. All visitor centers are open as are Belle, White Tank, Black Rock, Cottonwood,and Indian Cove campgrounds.
The National Weather Service forecast for today is scattered showers with wind gusts up to 33 mph and temperatures near 65 degrees. The forecast for Friday calls for sunny conditions and a high near 68 degrees.
Last updated: February 28, 2015