Small Plane Lands On Pinto Basin Road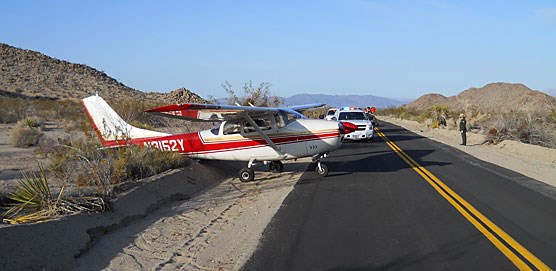 A single-engine Cessna 182 was landed yesterday afternoon on Pinto Basin Road inside Joshua Tree National Park. The pilot, Richard Piccirilli of Sun City, Arizona, said he was flying from Pleasant Valley, Arizona to Hemet, California when low fuel caused by strong head winds required him to make an emergency landing in the park. Neither the pilot nor a female passenger were injured and no other vehicles were involved in the incident.

The emergency landing was reported to park rangers about 3:50 pm. Park rangers, the California Highway Patrol, Riverside County Sheriffs deputies, and the Indio Fire Department responded to the site: about eight miles north of the Cottonwood Visitor Center and approximately 30 miles southeast of Twentynine Palms.
The plane suffered minor damage to the wings from impacts to vegetation. Federal Aviation Administration officials ordered that the plane not be flown out of the park, and it was moved to the side of the road to clear the roadway for vehicle traffic. After further consultation among park officials and the pilot, the plane was removed from the park by tow truck and taken to Chiriaco Summit.

Last updated: February 28, 2015