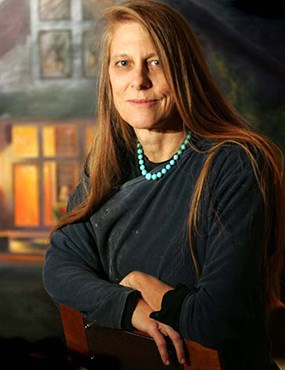 Joshua Tree National Park announces the opening of an exhibit by painter Jessica Dunne at the Joshua Tree Visitor Center. Ms. Dunne was a 2009 participant in the park's Artist-in-Residence Program. The Joshua Tree National Park Artist-in-Residence program is operated in partnership with the Riverside Art Museum. The program encourages artists to explore content related to Joshua Tree National Park and create a body of art that inspires interest in the park and builds better understanding and dialogue about our national parks, natural and cultural resources, the environment, and desert issues.
The story of America's national parks has long been told through the sensitive eyes of artists. The watercolors of Thomas Moran played an important role in convincing the U.S. Congress to set aside Yellowstone as the nation's first national park in 1972. National parks are now called "America's best idea." Since that time artists continue to be inspired by national park landscapes and cultural and historic themes to create works that share their unique vision with the American public visiting our national parks.
Raised in the California beach community of Malibu, Ms. Dunne has created a series of eight paintings based on her Joshua Tree experience. As an artist she has previously explored such everyday settings as the effects of urban streetlights and cars at night, southern California beaches, and the rural landscapes or Wyoming and Virginia. In describing her work, Dunne says, "People sometimes think my work is critical of modern life because my landscapes comprise buildings and cars, not the more traditional trees and fields. In fact, I paint what I paint because I believe my subjects are beautiful."
Ms. Dunne's paintings of her Joshua Tree art residency will be on display at the Joshua Tree Visitor Center from Labor Day weekend through the Thanksgiving Holidays. The exhibit is free to the public.
The Joshua Tree Visitor Center, located at 6554 Park Boulevard, in the community of Joshua Tree, California, is open from 8 a.m. to 5 p.m. each day. Owned by the nonprofit Joshua Tree National Park Association, the visitor center is operated in partnership with the National Park Service to serve visitors to Joshua Tree National Park. Apart from the art exhibit, information and exhibits on Joshua Tree National Park are available, and park rangers and Association staff are on hand to assist the public and answer questions about visiting Joshua Tree National Park. Visitors can pick up federal recreation passes, books, and information about ranger programs and other visitor services available at the park.