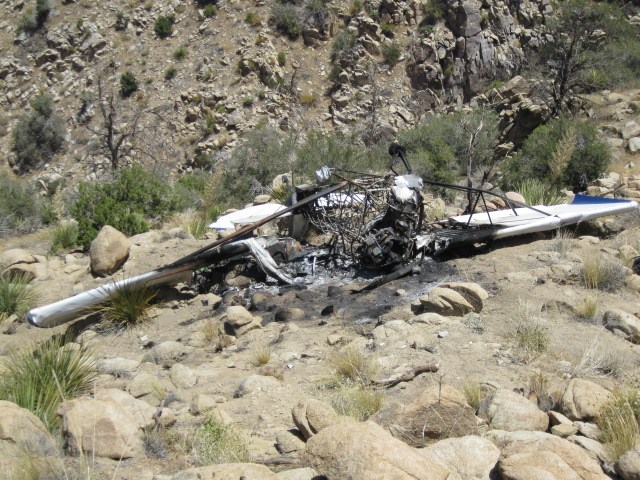 Park rangers and rescue personnel from multiple agencies responded this morning to a report of a plane crash in the northwest section of the park near Covington Flats. The plane, a small home-built aircraft constructed from a kit, was flying from Lake Havasu City, Arizona to Compton, California when it crashed in a hilly area of Joshua Tree National Park and caught fire. The lone occupant of the aircraft, Jeff Thornton, 28, was given emergency treatment at the scene for injuries sustained in the crash and airlifted to Arrowhead Regional Medical Center.
The crash occurred at approximately 9:20 am. Members of the Joshua Tree trail crew, who were working in the vicinity, saw a puff of smoke that alerted them to the crash. Local agencies sending personnel to the crash site included National Park Service, San Bernardino County Fire Department, the Bureau of Land Management, San Bernardino County Sheriffs' Department, California Highway Patrol, and Morongo Basin Ambulance. Helicopters from Mercy Air and San Bernardino County Sheriffs' Department also supported the incident.
The crash site is located in rocky terrain inside Joshua Tree National Park south of the communities of Yucca Valley and Joshua Tree. Rescue vehicles were able to get within about one mile of the crash site via La Contenta Road after which rescuers had to hike to the actual crash location. Rescue personnel were clear of the incident by about 12:30 pm today.
The cause of the crash is under investigation by the National Transportation Safety Board.