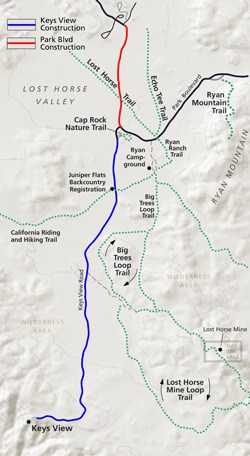 Joshua Tree National Park will extend through October 15, 2007 the temporary road closure along Keys View Road. Under the Federal Highways Program, repairs and road rehabilitation are taking place from the intersection at Park Boulevard and Keys View Road along the five-mile stretch to Keys View Overlook. The closure extention is necessary for visitor safety during the reconstruction process.
Currently, Keys View Road is closed each week from 10 p.m. Sunday until 6 p.m. the following Friday. The road is open for public use at the following times: Fridays from 6 p.m. to 10 p.m., Saturdays, from 7 a.m. to 10 p.m., and Sundays from 7 a.m. to 10 p.m. In addition, the road will be open to the public on the Columbus Day Holiday, Monday, October 8th, from 7 a.m. to 10 p.m. The nature trail, picnic area, and public parking at Cap Rock is also closed during the construction. These public-use restrictions will remain in effect through October 15, 2007.
Both Keys View Road and the facilities at Cap Rock will be re-opened to daily public access on Tuesday morning, October 16 at 7 a.m. However, some construction will continue and visitors may encounter brief delays. Visitors are urged to obey posted speed limits and to follow instructions from traffic control personnel.
The purpose of the construction activities is to rehabilitate aging park roads and eliminate unsafe road conditions. Highway repairs will also protect native park vegetation by reducing soil compaction from social trails and off-road driving. The repairs will improve drainage and help to control erosion and flash-flooding. Visitors will also enjoy wider, paved roadways with one-foot paved shoulders. Parking areas are being improved and new roadside curbing will better preserve native Joshua trees and desert wildlife habitat. For further information about park road construction projects, please call 760-367-5683.