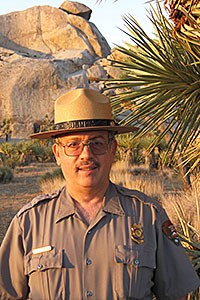 The National Park Service has appointed veteran ranger, Jeff Ohlfs, to be the new chief of visitor and resource protection, or chief ranger, at Joshua Tree National Park. Ohlfs replaces retired Joshua Tree Chief Ranger Judy Bartzatt. Joshua Tree's chief ranger oversees a staff of thirty employees engaged in law enforcement, fire, search & rescue, emergency services, fee collection, and managing special park uses. Joshua Tree National Park is approximately 794,000 acres in size and is visited by more than 1.4 million people per year.
Joshua Tree's new chief ranger is a 33-year parks veteran. He has had assignments at a wide variety of national park sites including Pinnacles National Monument, Redwood State National and State Parks, Crater Lake National Park, Chesapeake & Ohio Canal National Historical Park, Hot Springs National Park, and Lake Meredith National Recreation Area. During his career, Ohlfs has served in a variety of capacities including district ranger, safety officer, fire crew boss, all-risk incident commander, law enforcement specialist, fee manager, resource manager, emergency medical technician, search & rescue technician, wilderness manager, equal opportunity counselor, historian, and park interpreter.
Ranger Ohlfs' most recent position was as the Cottonwood district ranger at Joshua Tree where he supervised ranger operations for nearly 80% of the park's lands. Ohlfs knows the park well, having worked at Joshua Tree for the last 21 years.
Jeff's interests include national parks around the world and the community of international rangers. He is very active in international park protection and is a current member of World Commission on Protected Areas. Jeff is an avocational historian and has written several articles on the history of Joshua Tree National Park. A third-generation Californian and graduate of Humboldt State University, Jeff and his wife Deb reside in Twentynine Palms, California.