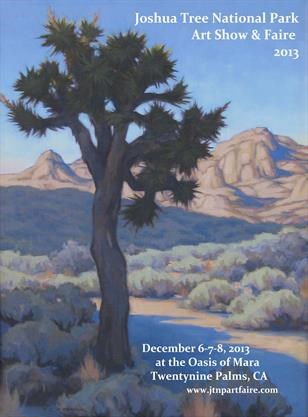 Release Date: November 18, 2013
Contact: Jennie Kish Albrinck, 760-367-5520
On December 6, 7 and 8, 2013, Joshua Tree National Park, along with the town of Twentynine Palms, will host a three-day celebration of art and music at the historic Oasis of Mara. Festivities for this first Joshua Tree National Park Art Show & Faire will include a juried art show with an opening reception, awards, and a weekend art faire with artists' booths, art demonstrations, cultural displays, park history presentations, youth art activities, and live music.
Fifty local, national, and international artists have been selected for the art show and will compete for $6,000 in awards. The artwork chosen had to demonstrate inspiration by the natural beauty and cultural history of Joshua Tree National Park, a site that has attracted artists and nature lovers from all over the world for more than 75 years.
The art show opens at noon on Friday, December 6, at the 29 Palms Art Gallery. A reception will be held from 5 to 8 pm.
Five venues, all within walking distance of the Oasis of Mara, will host the weekend's festivities. They include Joshua Tree National Park's Oasis Visitor Center on the east end of the oasis, the 29 Palms Art Gallery, the 29 Palms Inn, the Old Schoolhouse Museum, and on the west end of the oasis the 29 Palms Creative Center and Gallery. Admission to all locations is free.
The art faire will begin with a nature walk at 9 am on both Saturday and Sunday, followed by artists' booths, demonstrations, music, and activities from 10 am to 4 pm on Saturday and 10 am to 3 pm on Sunday. A celebration of art at the 29 Palms Inn on Saturday night will begin at 5 pm.
For a complete schedule of events and information about the featured artists, lodging, and Joshua Tree National Park visit www.jtnpartfaire.com.