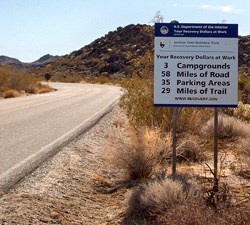 The National Park Service, an agency of the Department of the Interior, has awarded a $3.1 million contract under the American Recovery and Reinvestment Act (ARRA) to Cactus Transport, Inc., a highway and general contracting company based in Tolleson, AZ.
The company will perform a chip seal surface and re-apply traffic markers on numerous park roads throughout Joshua Tree National Park. Certain sections of park roads will receive full-depth patching and crack sealing as well. Approximately 58 miles of the park's 91 miles of paved roads will receive preservation treatment during the project. The contract also calls for resurfacing 35 parking areas within the park. This work will include parking lot approaches and re-application of traffic markings after resurfacing activities.
"These improvements will extend the life of many park roads and parking areas and preserves the value of our national investment in the park's infrastructure. In addition to creating jobs, this project improves visitor safety at Joshua Tree and will enhance the park driving experience," said Joshua Tree National Park Superintendent Curt Sauer.
Work under this ARRA contract is slated to begin on February 1 and will continue through June, 2010.
The American Recovery and Reinvestment Act passed earlier this year gave $3 billion to the Department of the Interior. Of that amount, $750 million will fund National Park Service projects.
The ARRA funds are part of a stimulus package that is an important component of the President's plan to jumpstart the economy and put a down payment on addressing long-neglected challenges so the country can thrive in the 21st century. Under the ARRA, Interior is making an investment in conserving America's timeless treasures – our stunning natural landscapes, our monuments to liberty, the icons of our culture and heritage – while helping American families and their communities prosper again. Interior is also focusing on renewable energy projects, the needs of American Indians, employing youth and promoting community service.
"With its investments of Recovery Act funds, the Department of the Interior and its bureaus are putting people to work today to make improvements that will benefit the environment and the region for many years to come," Secretary of the Interior Ken Salazar said.
Secretary Salazar has pledged unprecedented levels of transparency and accountability in the implementation of the Department's economic recovery projects. The public will be able to follow the progress of each project on www.recovery.gov and on www.interior.gov/recovery. Senior Advisor for Economic Recovery Chris Henderson along with the Economic Recovery Task Force work closely with Interior's Inspector General to ensure the recovery program is meeting the high standards for accountability, responsibility, and transparency set by President Obama.