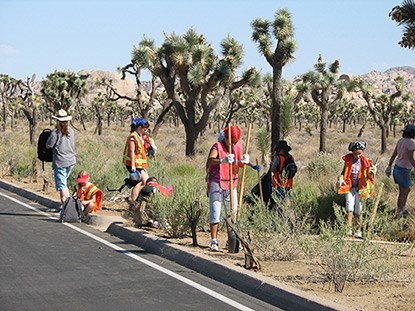 Saturday, September 26, 2009 is National Public Lands Day. People all across the country will turn out on this day to take part in volunteer projects to benefit America's shared heritage, its public lands. The National Park Service invites Americans to volunteer and help our make national parks, often called "America's best idea," even better. Park Superintendent Curt Sauer encourages local community residents to turn out on Public Lands Day to assist Joshua Tree National Park with a variety of needed work projects. Participating volunteers will receive a coupon good for a "fee-free" day at national parks and other federal agency sites. Entrances fees for all park visitors will be waived on September 26 at Joshua Tree National Park, other National Park Service areas, and other federal recreation sites.
Volunteer workers are needed for the following projects:
1. TRASH REMOVAL, TRAILS AND CAMPGROUNDS. Trash that has been dumped, blown in, or left by visitors is a deadly hazard to the threatened desert tortoise and other desert wildlife. It also impairs the scenic vistas of the park. By removing trash, volunteers improve the scenic beauty of Joshua Tree and improve the habitat for wildlife. VOLUNTEERS should come prepared by bringing work hats, gloves, appropriate footwear, sunscreen, water and snacks.
2. ARID LANDS NURSERY ASSISTANCE. This project involves seed cleaning and making paper pots for seed germination at the Center for Arid Lands Restoration. The park's native plant nursery grows a wide variety of native desert plants for use in park restoration projects. These nursery grown plants promote the rapid recovery of disturbed areas and help prevent the establishment of harmful exotic weeds.
All groups will meet at the Oasis Visitor Center at 8:30 AM. The Oasis Visitor center is located at 74485 National Park Drive in Twentynine Palms at the intersection of National Park Drive and Utah Trail. Volunteers should bring a hat, water, sturdy shoes, and work gloves.
This year's events occur on the day before the nationwide broadcast of a six-night, 12-hour documentary on the national parks by acclaimed documentary film-maker Ken Burns. As part of the festivities, Joshua Tree will offer a 45-minute sneak preview of Ken Burns's new production The National Parks: America's Best Idea, premiering on PBS September 27. Public Lands Day participants at Joshua Tree will have an opportunity to attend the free film preview that will be shown 2:00 p.m. on Saturday at the Blak Box Theater, 61231 Highway 62, in the community of Joshua Tree. Participants wishing to attend the film preview must call the Blak Box Theater at 760-366-3777 for reservations. Seating is limited.
"The American people have created 391 national parks and entrusted their care to the National Park Service. With the help of volunteers and park partners, we are proud to preserve these places and to share their stories with more than 275 million visitors every year," said Dan Wenk, Acting Director of the National Park Service. "We hope everyone will come out and join us on September 26 to celebrate the parks and our shared commitment to make America's Best Idea even better."
For further information about Public Lands Day activities at Joshua Tree National Park, contact park Volunteer Coordinator Laureen Lentz at 760-367-5524. For general park information call 760-367-5500, or visit the park's website: www.nps.gov/jotr.