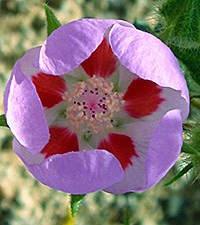 Ample winter rains and gradually warming temperatures are stimulating growth of annual desert wildflowers at Joshua Tree National Park. While the great carpets of wildflowers seen in 2005 and 2008 have yet to develop, local concentrations of up to 50 species are starting to appear in some park locations. The southern areas of the park near Interstate 10 and the park's South Entrance have places showing a good variety of wildflowers. Joshua trees themselves are blooming at many locations across the northern and western regions of the park from the West Entrance to Jumbo Rocks Campground.
Perhaps the most common question park rangers receive this time of year is "where are the wildflowers blooming?" Joshua Tree was first established as a national monument in 1936 to preserve the outstanding diversity of the region's native desert plant life. In years of above average fall and winter rains, vast stretches of the park's Mojave and Colorado Desert ecosystems are covered with an amazing array of colorful blooms. With areas of the park receiving up to 10 inches of precipitation since mid-December, many southern Californians are anticipating another great wildflower year. It may happen, but cool spring temperatures have so far delayed the onset of many spring flowers, and the lack of fall rainfall in the desert has led some desert botanists to caution wildflower enthusiasts not to raise their hopes too high.
Wildflower watchers, however, are starting to see signs of a better than average season. Flower variety is picking up nicely in some locations. Joshua tree blossoms are now appearing in numbers on many individual trees. The season's first cactus blossom in the park, the lovely orange-red Mojave mound cactus, was found in the Lost Horse Valley area. The Cholla Cactus Garden and Hidden Valley Nature Trails are good areas to see a variety of cactus species. Observers have noted concentrations of rapidly growing sprouts for such spectacular species as the Mariposa lily and desert lily (two very different types of flowers). Those wishing to see a good variety of wildflowers should plan to visit a number of different desert habitats in both the Mojave and Colorado Desert zones of the park.
The coming weeks will bring warmer days prompting the growth of even more species of desert flowers. Updated wildflower reports will be posted on the Joshua Tree National Park web site found on the Internet at: www.nps.gov/jotr/planyourvisit/blooms.htm. Maps of the park and charts showing locations of wildflower blooms can be found there. For general park information, visitors can also call the park at 760-367-5500.