Flood Damage Causes Temporary Closures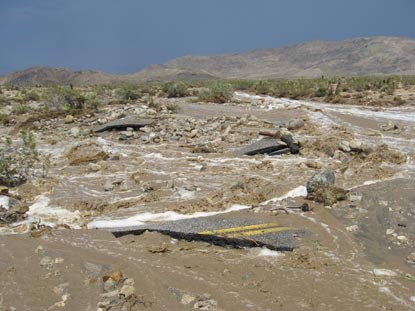 Strong thunderstorms across the north central area of Joshua Tree National Park caused damage to a number of park facilities on the afternoon of Monday, August 4. Storm damage has forced park officials to temporarily close a number of park facilities. Roads and camping areas affected by the closures are open to day-use hiking.
Due to flash flood damage, the following park facilities are CLOSED until further notice:
The Indian Cove Area to include:
Indian Cove Road south of Indian Cove Ranger Station
Indian Cove Campground
Indian Cove Group campsites
Rattlesnake Canyon Day Use Area
Park Route 12, North Entrance Road:
From the park's North Entrance south five miles to the junction with Pinto Basin Road
UPDATE: As of 1:00 pm on August 6, the North Entrance Road/Park Route 12 is OPEN. Please drive with caution.
While 0.77 inches of rain were recorded at park headquarters in Twentynine Palms, it is estimated that storm-affected areas in the park may have received from three to five inches of rain Monday afternoon. Torrential floodwaters were observed crossing one section of park road just south of the North Entrance resulting in the complete loss of 30 feet of roadway. The North Entrance Road will be closed for approximately 48 hours while temporary repairs are made.
In the Indian Cove area, floodwaters scoured steep dropoffs along the edges of about one-third of the road leading to Indian Cove Campground and significant flood damage occurred in portions of the campground as well. It is estimated that about two weeks will be needed to make the necessary repairs before the Indian Cove Campground and Indian Cove Road can be reopened for public use.
The park's other main entrances, the West Entrance and South Entrance remain open for public use, and all other park roads are open for visitor traffic. Minor local flooding occurred on many park roads, and some sand and small rocks have washed onto park roadways. Park crews are working to clean up these areas. Visitors may encounter brief delays as work crews carry out cleanup activities.
Park trails are open, but hikers and equestrians should exercise caution as many trails have not yet been assessed for flood damage.
Further updates on facility closures will be issued as conditions change. Park rangers urge all visitors to use extreme when traveling flood prone areas. Do not enter washes when water is running. Please observe all road closures. These have been put in place for your safety.
For current information on park road and travel conditions, visitors can call 760-367-5500.
Last updated: February 28, 2015