Dr. Luckie Study Center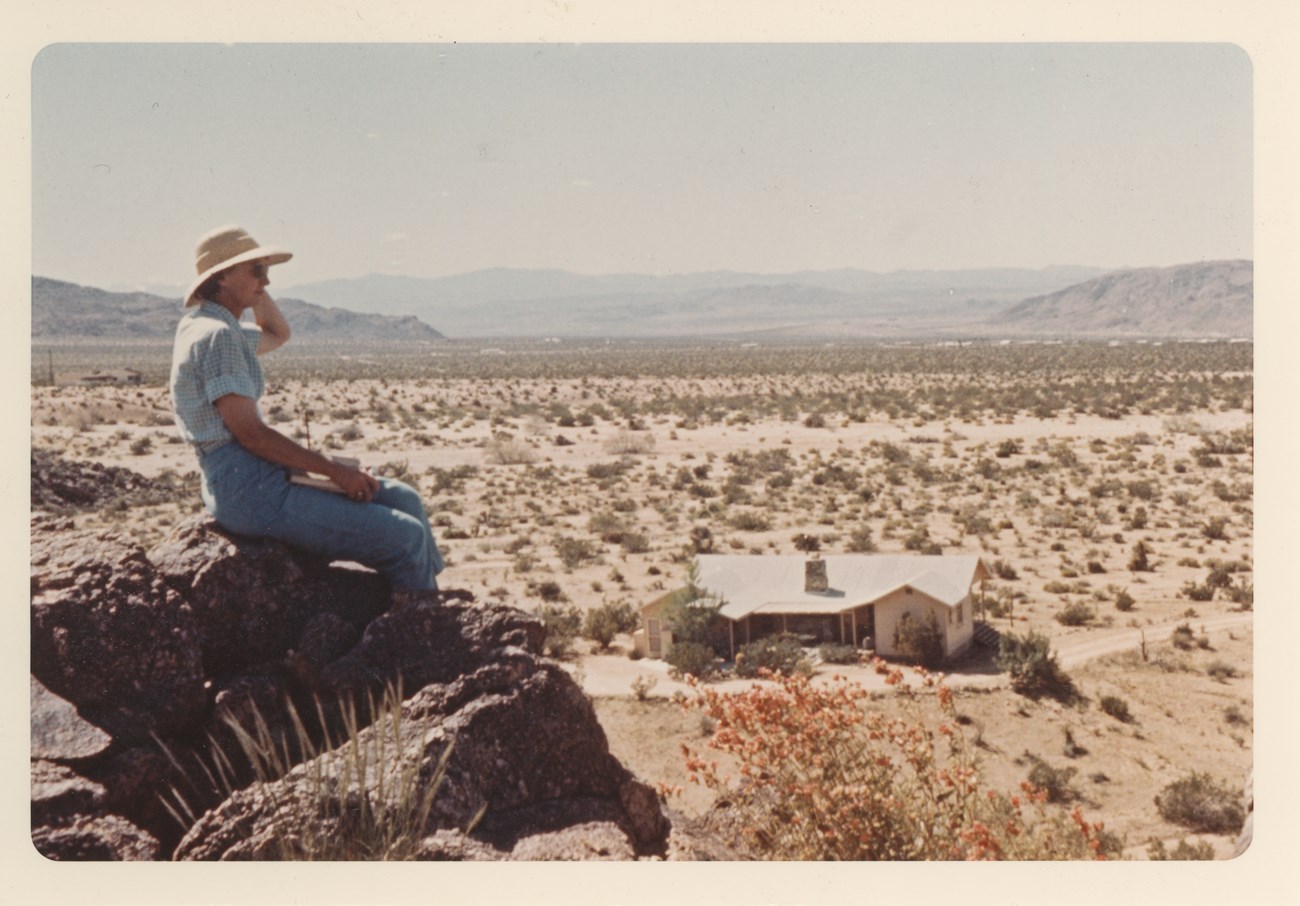 Mission Statement
The Dr. James Buckner Luckie Study Center provides a logistical and operational base for professional scientists conducting applied research in the Colorado and Mojave Deserts. The core mission of the center is to provide students, faculty, and professional researchers facilities that support scientific research in Joshua Tree National Park. The center supports and facilitates applied research used to directly inform park management on critical decisions relating to resource conditions.
Vision Statement
The Luckie Study Center fosters and promotes the principles and achievements of Susan Luckie Riley and her father, Dr. James Buckner Luckie by nurturing innovative and cutting edge scientific research. Center scientists will reflect the spirit of the Luckie family by pioneering new research to effectively deal with the challenges facing the park today. The center is known as a hub for high quality applied research and learning through partnerships with academic, non-profit, and professional organizations. Science based results generated from center-sponsored activities inform park management on critical issues and benefit local scientific and residential communities.
Who Can Use the Center?
The Luckie Study Center is available for visiting scientists and research groups conducting work at Joshua Tree National Park. The center provides short term overnight accomodations with a small indoor kitchen and larger outdoor kitchen set up.
Examples of Supported Activities
Geoscientists-in-Parks Program: diverse internship positions focused on geology, paleontology, and bio-physical resources issues, data needs, and stewardship actions.
Visiting Scholars: The center is a place where individuals from academia can take refuge to complete publications, studies, and similar focused activities. Scholars become a part of the local park management team, providing observations and feedback during their tenure.
Permitted Research: Scientists with park research permits may request lodging and support at the center. To learn more, visit our Research Permits page.
Fellowships
International Researchers and Students
What is Available?
The center is located just west of the city of Twentynine Palms on the northern boundary of Joshua Tree National Park.
Main House: two bedrooms, two bathrooms, a small kitchen, and a central common area.
Bunkhouse: two sleeping areas (8 beds total; 2 singles and 3 bunkbeds), two bathrooms, and a small common area.
Patio/Yard: Between the main house and bunkhouse is an outdoor space with places to gather, a fire pit, and a modest outdoor kitchen. Space may be available to camp with prior NPS approval.
Apply to Use the Center
Submit inquiries to the Chief of Science and Resource Stewardship either by phone (760) 367-5560 or via email at jotr_information@nps.gov with the subject line "Dr. Luckie Study Center."
Who was Susan Luckie Reilly?
The property was the vacation home of Dr. James B. Luckie and later permanent residence of his daughter Susan Luckie Reilly. Dr. Luckie, a Los Angeles area physician, recommended the dry, desert climate to his WWI veteran patients. Many saw their health dramatically improve. Preferring to personally keep track of his patients Dr. Luckie would often visit them in the small desert community that these military veteran families, miners and other homesteaders had established. His decision to purchase vacation property here would cement his relationship to the town.
Walking the site in 1938, Dr. Luckie, and local contractor Walter Berg, discussed ideas for the vacation house Dr. Luckie envisioned. Susan later recalled that her father returned to Pasadena to have an architect draw up plans only to find, upon returning to Twentynine Palms with the blueprints, that Berg had already built the house. The house had no electricity and was difficult to keep up, but the family came out as much as Dr. Luckie's practice allowed. It was during family vacations here that Susan said she developed a life-long love and passion for the desert. An early advocate of solar energy, Susan installed a photovoltaic array and a solar water heater which provided a large part of her household needs.
Dr. Luckie gifted the house to Susan when she earned her degree from Stanford University. A self-identified "perpetual student," she took numerous courses in her favorite subjects, including plant classification and desert ecology. For over 50 years Ms. Reilly lived in the home and was an outspoken environmental advocate and founding life member of the Morongo Basin Conservation Association which works to protect the desert through involvement in regional planning and political advocacy. "I've been an activist for years,' she said. "I've opposed power plants, polluting industries and waste dumps in the desert. You can't just sit back and watch things go to heck!"
With her donation of this property to the National Park Service in 2017, and your residency today, Ms. Reilly's commitment to protecting the desert she loved continues.
Last updated: July 11, 2023