Minerva Hoyt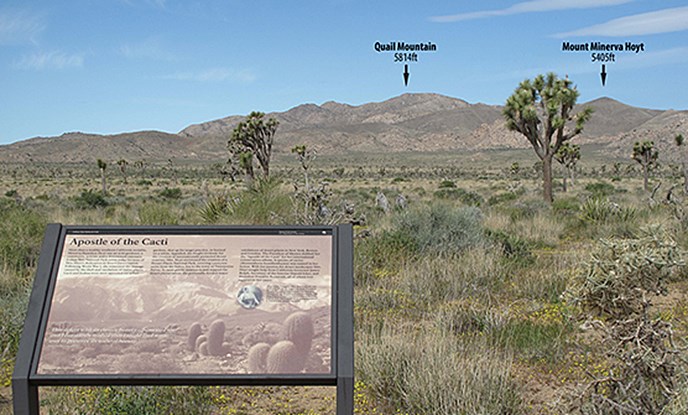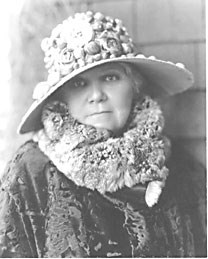 Few park visitors give much thought to how national parks are established, but dedicated park boosters will probably mention the names of Ferdinand Hayden (Yellowstone), John Muir (Yosemite), and Enos Mills (Rocky Mountain) when asked to name people who promoted the founding of national parks. These were outdoorsmen in keeping with the rugged and heroic western landscapes. Asked to name a woman connected with the founding of a national park, a few might offer Marjorie Stoneman Douglas as a champion of Everglades National Park.
Not many will recall Minerva Hamilton Hoyt and her tireless efforts on behalf of California desert protection. In fact, without her leadership, Joshua Tree National Park might never have become part of the National Park System. How a transplanted southern belle born on a Mississippi plantation became a staunch backer of the protection of desert landscapes is perhaps one of the more unlikely stories in the annals of national park history.
Minerva Hamilton led a genteel early life attending finishing schools and music conservatories. Her marriage to Dr. Sherman Hoyt led her away from the deep south to New York and eventually to South Pasadena where she immersed herself in southern California high society and civic causes. She demonstrated talent as an organizer of special charity events and developed a passion for gardening, which introduced her to some of the native desert vegetation commonly used in southern California landscaping. Trips to the desert instilled in Ms. Hoyt a strong appreciation for the austere beauty and wonderful inventiveness of desert plants that somehow managed to thrive in the harsh climate. She also saw the widespread destruction of native desert plants by thoughtless people who dug up, burned, and other wise destroyed so many of the cacti and Joshua trees that Minerva found beautiful.
Following the deaths of her son and husband, Minerva dedicated herself to the cause of protecting desert landscapes. She organized exhibitions of desert plants that were shown in Boston, New York, and London. She founded the International Deserts Conservation League with the goal of establishing parks to preserve desert landscapes. Hoyt was tapped by noted landscape architect, Frederick Law Olmstead, Jr. to serve on a California state commission formed to recommend proposals for new state parks. She prepared the commission's report on desert parks and recommended large parks be created at Death Valley, the Anza-Borrego Desert, and in the Joshua tree forests of the Little San Bernardino Mountains north of Palm Springs.
In time Hoyt became convinced that a national park was the best option for preserving large desert areas. She hired well known biologists and desert ecologists to prepare reports on the virtues of the Joshua Tree region. She was introduced to President Franklin Roosevelt whose New Deal administration became active in the establishment of national parks and monuments as a jobs-creation initiative and she developed an ally in Secretary of the Interior Harold Ickes.
Minerva had a major success when President Roosevelt asked the National Park Service to prepare a recommendation on the site. Problems with the inclusion of certain railroad lands forced a reduction in the size of the proposed park from over one million acres to a more modest 825,000 in the final proposal. On August 10, 1936, President Roosevelt signed a presidential proclamation establishing Joshua Tree National Monument. Minerva finally had her grand desert park.
by Chief of Interpretation Joe Zarki
Last updated: February 28, 2015