Artist in Residence Program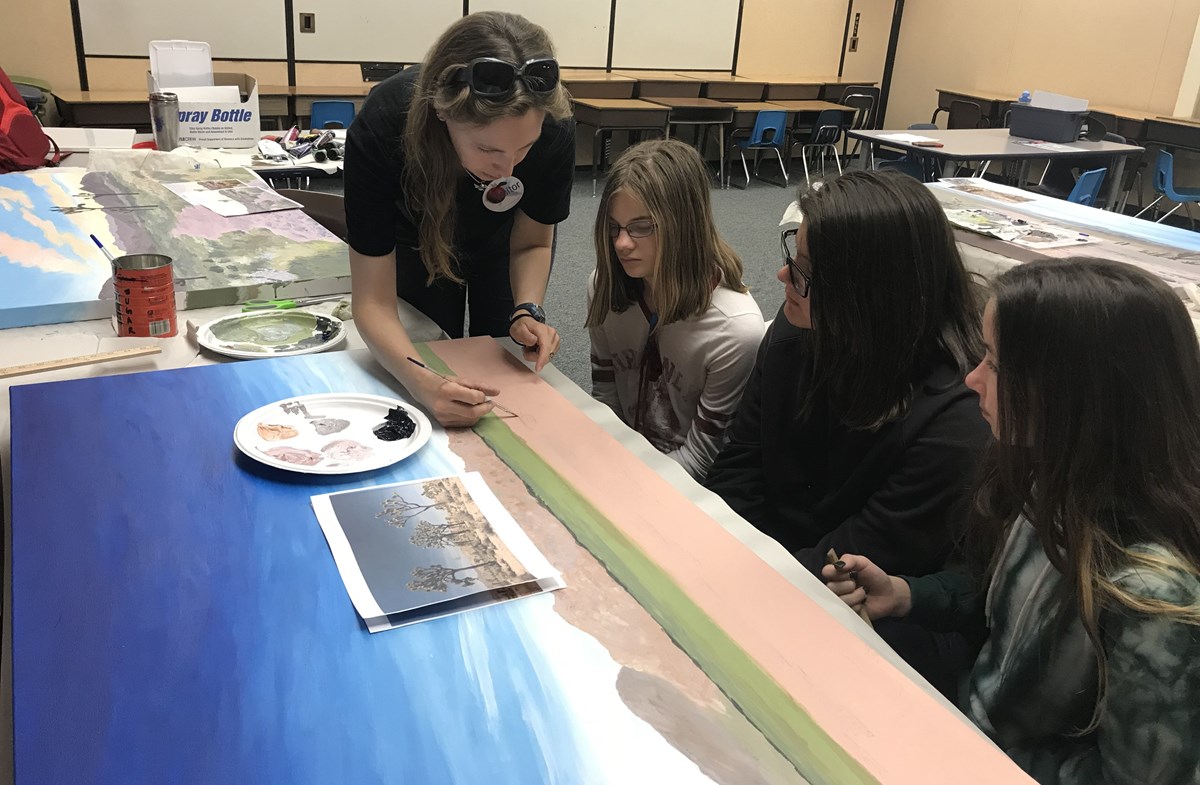 Artists in Parks
Mission Statement
The purpose of the Joshua Tree National Park Artist-in-Residence Program is to provide artistic and educational opportunities to promote a deeper appreciation of the natural, cultural, and historical resources of Joshua Tree National Park.

Artists were among the first to record the visual beauty and the drama of the American West on canvas and in photos. Carleton Watkins, Ansel Adams, Thomas Moran, William Henry Jackson, and others awakened a nation to the magnificent waterfalls, geyser basins, and wildlife found in what would become some of our nation's most revered national parks. John Muir and Henry David Thoreau touched people the world over with their writing. Musicians, composers, and other performing artists have likewise found inspiration in our national parks. They looked beyond nature as a raw resource; they spoke in defense of disappearing wildlife and vegetation. They saw beauty and virtue in places promised to the future. Their works continue to foster pleasure and appreciation in others, generating support for the protection and preservation of our national resources. Today, artists continue to document national parks, landscapes, and resources with contemporary approaches and techniques.
About the program
The Joshua Tree National Park Artist-in-Residence Program offers visual, performing and literary artists a residency lasting 4 weeks during the months of October and April each year. Artists are housed in a dorm-style room in the Black Rock housing area, free of charge. A small travel reimbursement may be available. Although the artist will be signed up as a VIP (Volunteer in Parks), they are responsible for their own expenses such as meals, personal art supplies, transportation, etc.
In exchange for the adventure of living and working in a national park, artists will share their talents in a collaborative project with 4th graders in a local school. The project will consist of one classroom visit to the students (up to 5 classes with education rangers to assist) as well as an artist-led field trip arranged with the guidance of education rangers to the park. Supplies used for school/public programs will be purchased by the park and retained by the park once the artist departs. Artists' proposals must address content related to Joshua Tree National Park, its natural resources, and environmental desert issues with a component that encourages environmental awareness among youth in the community. Please assume that your student audience will range from 60-120 students, with assistance from education park rangers, when designing your student project.
Accommodations and Working Conditions
Artists will be housed in a 1-room, dormitory-style apartment with access to free laundry with a commercial-style kitchen with adequate food storage, however, there is no internet access in the dorm and cell phone coverage is spotty. Wifi is available at the Black Rock Nature Center, a short walk from the dorm.
The Black Rock Dormitory is located in the Black Rock Campground close to local shopping and other activities. It is one of the highest locations in the park, with access to many beautiful trails of varying abilities. Although conditions at this location are relatively temperate, artists must be prepared for more extreme conditions, including high winds, low relative humidity and temperatures that can range from 100 degrees Fahrenheit during the day to as low as 30 degrees at night. Visiting artists are subject to the same National Park Service regulations as all visitors - permanent or temporary alterations or manipulations of the landscape are strictly prohibited. Artists will be provided with a volunteer pass to allow free access to the park during the residency but will need their own transportation in and out of the park. Only one occupant is allowed at any time in housing. Park policy prohibits bringing pets into housing. Although there is no studio space available, the dorm rooms do provide adequate work space for artists of most media.
Donation of work to the Joshua Tree National Park Collection
Artists selected for the residency will work with the park on an appropriate type of donation. The donation will be an original piece of artwork or appropriate professional documentation of their piece from their residency. Donated artwork must be received no later than one year after an artist's residency. Artists are also required to provide the copyright for this artwork to the National Park Service. Artwork becomes the unrestricted property of Joshua Tree National Park and may be used in exhibits, educational programs, fundraising efforts, and by Joshua Tree National Park's non-profit association for their products. The artist retains a royalty-free, nonexclusive use license under the copyright of the art. The National Park Service owns the artwork and the rights to reproduce it. Under those rights, the artist has a license to make use of the artwork's image for his or her own purposes. When artists reproduce artwork for their own purposes, publication information will include the language: "This artwork was produced under the Artist-in-Residence program at Joshua Tree National Park."
How to Apply
All materials must be received by midnight April 30th.
All application materials must be sent by email to jotr_education@nps.gov, except for the application fee which must be sent by check to the address below.
Application Materials to Email (jotr_education@nps.gov)
Resume of professional experience, including

Contact Information: name, address, phone, email, professional website
Choice of residency: October 2018 or April 2019. If you don't have a preference, write 1 or 2 for 1st and 2nd choice.

Statement of Purpose for the Residency (pdf)

Statement not to exceed 2 pages in length, double-spaced, 11 pt font.
Identify the specific project you want to do with 4th grade students (approximate between 60-120 students). Provide a focus subject or topic for the field trip component and how the classroom component will either prepare or help students conclude their project. The project description should contain a connection between what the students observe/do in the park and what they do in the classroom. Education rangers will be present at all field trips and classroom visits to assist and will be available to help plan the field component.
Relevance of this project to Joshua Tree National Park.
Potential for personal growth during residency.

Sample of Artistic Work

Artists must include a link to a website (artist's professional website, online gallery, YouTube, etc.) that will showcase samples of their work. This should be on the resume.
Applications Materials to Mail
Non-refundable application processing fee of $45, check made payable to JTNPA-AIR Program.

AIR Program - Education Office
Joshua Tree National Park
74485 National Park Drive
Twentynine Palms, CA 92277-3597
This fee will be retained by the Joshua Tree National Park Association and will be used to directly support the Artist-in-Residence program
Once Materials Are Received
You will receive confirmation from the Education Office upon receipt of both emailed materials and the processing fee. Only complete packages will be considered.
Please do not mail items other than the application fee. No items in the application will be returned to the artist.
Deadline is midnight April 30, 2018.
Last updated: July 10, 2018