Artist in Residence Program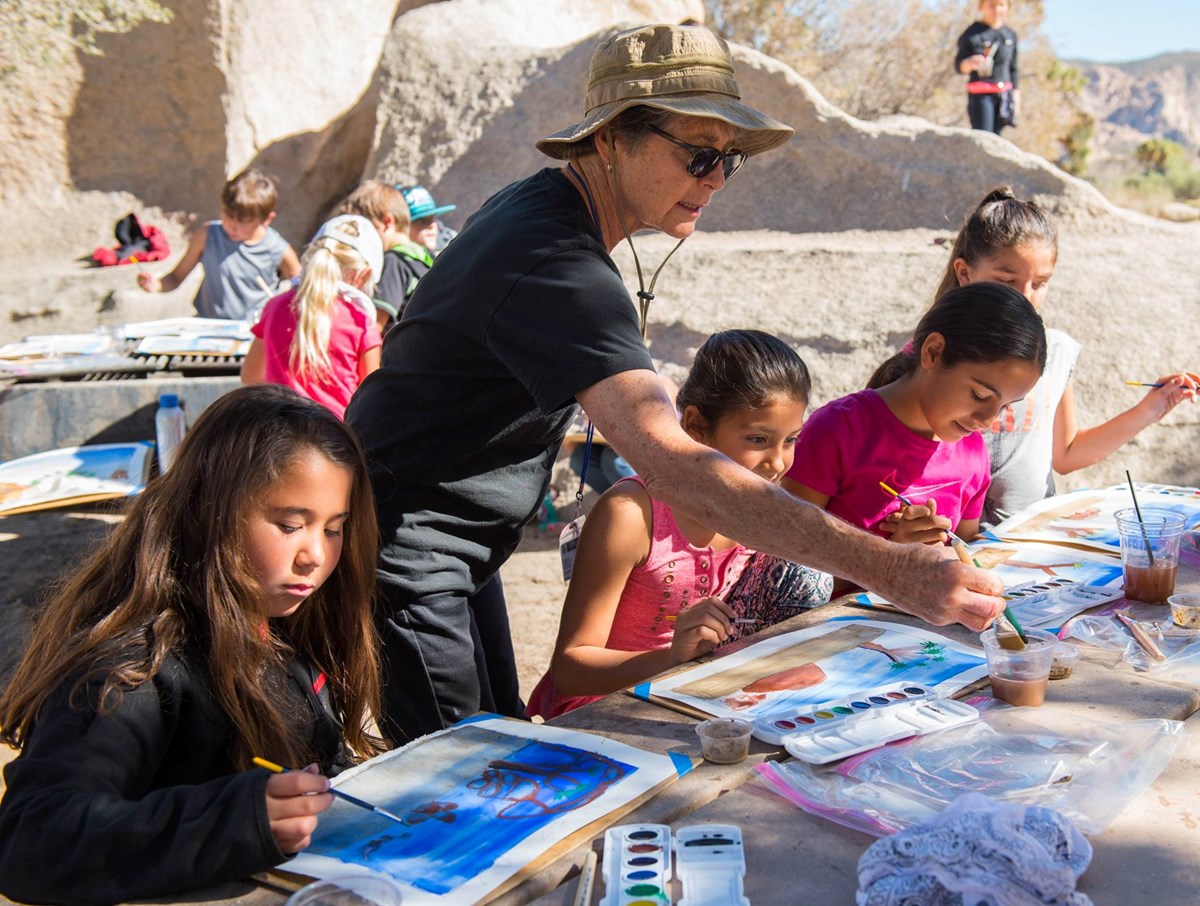 Artists in Parks
Mission Statement
The purpose of the Joshua Tree National Park Artist-in-Residence Program is to provide opportunities for artists to creatively explore the resources of Joshua Tree National Park and, equally, to enhance the artistic education of our local communities, promoting a deeper appreciation of the natural, cultural, and historical resources of Joshua Tree National Park and increasing arts engagement for the children in our local communities.

Artists were among the first to record the visual beauty and the drama of the American West on canvas and in photos. Carleton Watkins, Ansel Adams, Thomas Moran, William Henry Jackson, and others awakened a nation to the magnificent waterfalls, geyser basins, and wildlife found in what would become some of our nation's most revered national parks. John Muir and Henry David Thoreau touched people the world over with their writing. Musicians, composers, and other performing artists have likewise found inspiration in our national parks. They looked beyond nature as a raw resource; they spoke in defense of disappearing wildlife and vegetation. They saw beauty and virtue in places promised to the future. Their works continue to foster pleasure and appreciation in others, generating support for the protection and preservation of our national resources. Today, artists continue to re-interpret national parks, their landscapes and their resources, with contemporary approaches and techniques.
About the Program
The Joshua Tree National Park Artist-in-Residence Program (AiR) is open to visual artists, performing artists, musicians and writers. The park hosts two artists per year. Each artist comes for a four-week stay, one in October of the application year and another the following April (in alignment with the school year). There are two objectives for this residency. One is to give artists time to explore the park and pursue their own creative practice. The other is to engage local school children who have limited access to the arts.

While the majority of an artist's stay may be devoted to their own art practice, a significant component of the residency for each artist is a collaborative project with 4th graders in a local school. The school project will be one developed by the artist prior to their residency. Previous experience working with grade-school children is not a requirement and park education staff can help you develop your ideas. Contact with students will consist of one school visit, leading several classes over the course of a day and an artist-led field trip to the park.

Experienced education rangers will assist with both the school visit and field trip. Supplies used for school/public programs and field trip transport will be arranged for by the park. While artists are encouraged to explore freely in their work done at the park, proposals created for the school programs must address content related to Joshua Tree National Park, its natural resources, environmental desert issues, and environmental awareness among youth in the community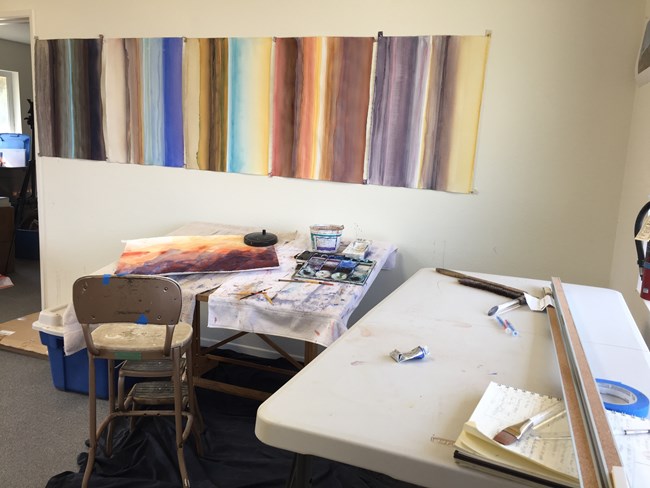 Accommodations and Working Conditions
As Artist-in-Residence, you will be housed at Black Rock in the northwest corner of the park. This area has a ranger station, a campground and access to many beautiful trails of varying abilities. Sitting at the base of the San Bernardino mountain range, its higher altitude makes this area one of the best for Joshua Trees and somewhat cooler than other parts of the park. Although conditions at this location are often relatively temperate, artists should be prepared for more extreme conditions during the course of their stay, including high winds, low relative humidity and temperatures that can range from 100 degrees Fahrenheit during the day to as low as 30 degrees at night.
Artists stay in a 1-room apartment furnished with a twin bed, desk, closet, and set of drawers. Bathroom facilities are dormitory-style, a few steps from your room. You will have access to free, shared laundry and a shared, commercial-style kitchen with a place for your own food storage. There is no Wi-Fi or wired internet in the building and cell phone coverage can be spotty. Public Wi-Fi is available at the Black Rock Nature Center, a short walk away. The town of Yucca Valley is about a 10 minute drive away and has a variety of shopping and dining as well as medical facilities.
There is studio space adjacent to the Black Rock Nature Center. It is currently furnished with a drafting table, several folding tables of various height and length, and ample natural light.
Though housing is provided, artists are responsible for their own expenses such as meals, personal art supplies, transportation, etc. A small travel reimbursement may be available for those coming from a long distance. Only one occupant is allowed at any time in housing. Park policy prohibits bringing pets.
Donation of Work to the Joshua Tree National Park Collection
At this time, work is not being accessioned into our museum collection. Therefore, artists are asked to share high-quality, digital images of any works produced as a result of their time in residence with the park, with permission to reproduce the images for the sole purpose of promoting the park's residency program. A credit will be given to the artist any time the work is reproduced for this purpose.
How to Apply
Applications will be accepted between April 1- May 31 annually.
Separate application fee must be postmarked by May 31 of the application year. The deadline for submission is midnight May 31 of the application year.
Please email the following digital application materials to: jotr_education@nps.gov
Artist Resume
(
format: pdf file)
Be sure to include current contact information, including email, and link to professional website.
Statement of Purpose for the Residency (format: pdf file)
Statement not to exceed 2 pages in length, double-spaced, 11 pt font.
Basic Information: At the top of the statement, write your name and the month you are applying for: October or April. Please indicate which is your first and second choice.
Work and Aspirations: Briefly describe your artistic practice. What ideas do you typically explore and what media do you use? What are your motivations as an artist? What do you hope to gain artistically from this residency? Do you have a specific idea for a project you would like to pursue during the residency? What plans do you have to share the work resulting from this residency? In considering projects, please note that permanent or temporary alterations or manipulations of the landscape are strictly prohibited.
School Project: Identify a specific project you'd like to do or topic you'd like to explore with local 4th grade students, both in the classroom and on the field trip (assume approximately 60-120 students in total, split between several classes). Ideally, the project description should contain a connection between what the students observe/do in the park and what they do in the classroom. Be sure to describe your project or topic's relevance to Joshua Tree National Park.
Work Samples (format: pdf file, or common file types as appropriate for media, not to exceed 10MB per file)
For each work sample, please include name of work, date, media, dimensions/duration/length, and a very brief description of the piece. For writing samples and time-based works (films, performances), please submit excerpts of reasonable length with an explanation of how the sample fits into the longer work.
You must include a link/links to online examples of work you wish to be reviewed. Jurors will not review work samples that are not easy to locate. Links may be to specific works on a website, dropbox, Google docs folder, YouTube, or other digital means of accessing your work. Do not send files of work samples as email attachments.

Application Processing Fee $35
For online payment (copy and paste to browser): https://www.eventbrite.com/e/joshua-tree-national-park-artist-in-residence-application-fee-tickets-145775375071 *
*Please forward an email copy of your receipt as additional proof of payment to jotr_education@nps.gov. Digital payment must be received by midnight, May 31.

Mail: USPS or other carrier
Write a $35 check payable to JTNPA-Artist in Residence Program and mail to
Artist in Residence Program - Education Office
Joshua Tree National Park
74485 National Park Drive
Twentynine Palms CA 92277

Envelope must be postmarked and digital payment must be made by May 31 of the application year.

This non-refundable fee will be retained by the Joshua Tree National Park Association and will be used to directly support the Artist-in-Residence program.

Artists will receive confirmation via email upon receipt of both application materials and the processing fee.
Only complete applications will be considered.

For questions contact jotr_education@nps.gov.
Last updated: April 4, 2021