Artist in Residence Program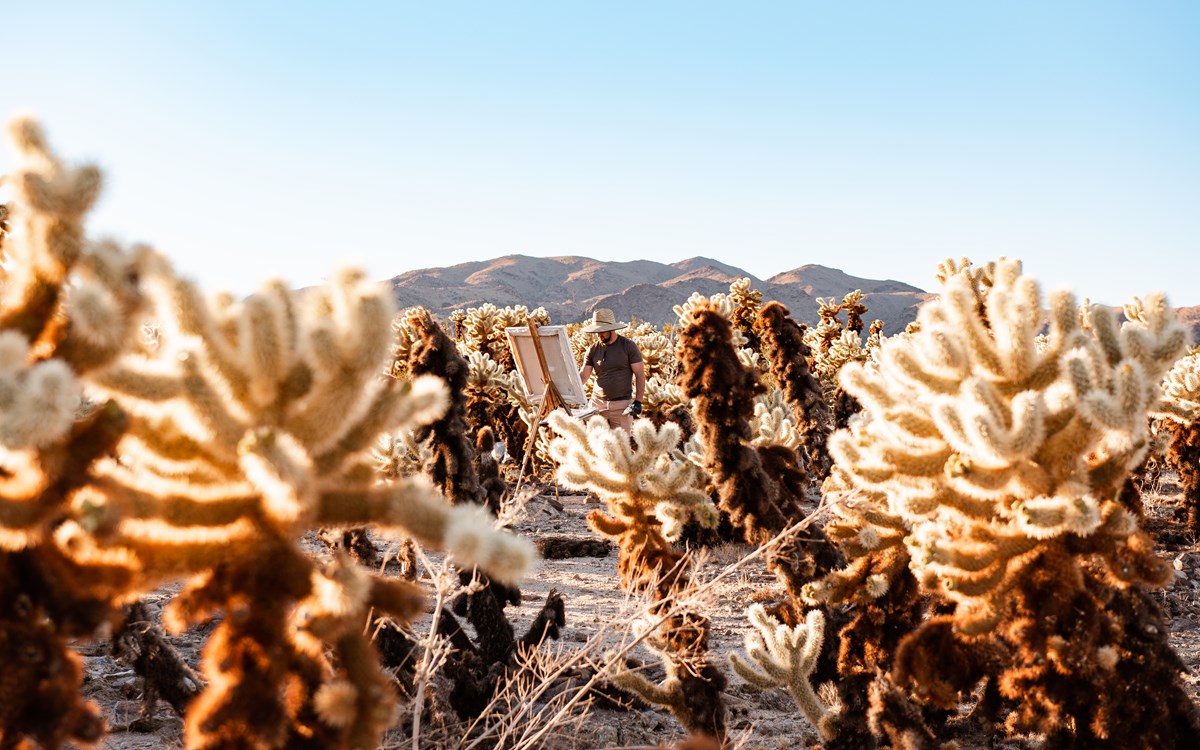 Artists in Parks
The purpose of the Joshua Tree National Park Artist in Residence Program is to provide opportunities for artists to creatively explore the resources of Joshua Tree National Park, promoting a deeper appreciation of the natural, cultural, and historical resources therein.

Artists are an important part of the national park system. Writings, paintings, photographs, and public outreach provide opportunities for new audiences to experience national parks. In the era of virtual visits, the role of artists is more important than ever in sharing unique perspectives of national parks with online audiences.

About the Program
The Joshua Tree National Park Artist in Residence Program (AiR) is open to visual artists, performing artists, musicians and writers. Artist are invited for a one-month stay in fall or spring. There are two objectives for this residency. One is to give artists time to explore the park and pursue their own creative practice. The second is for the artist to share their unique perspective of the park's resources with others.

Most of the artist's stay will be devoted to their own art practice; however, the park requires one visitor outreach experience, which will be coordinated with park staff. Artists will have agency to design the experience- it could be leading a short hike, performance, or being available for visitor questions while working at a public location.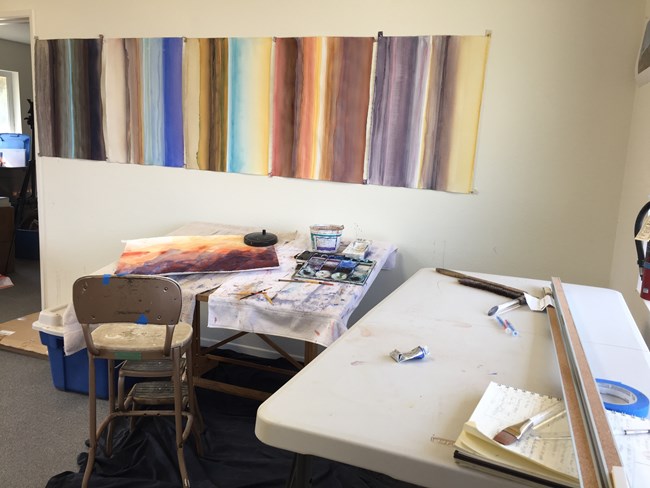 Accommodations and Working Conditions
Artists in residence are housed at Black Rock in the northwest corner of the park. This area has a ranger station, a campground and access to many beautiful trails. Sitting at the base of the San Bernardino mountain range, its higher altitude makes this area one of the best for Joshua Trees and somewhat cooler than other parts of the park. Although conditions at this location are often relatively temperate, artists should be prepared for more extreme conditions during the course of their stay, including high winds, low relative humidity and temperatures that can range from 100 degrees Fahrenheit during the day to as low as 30 degrees at night.
Artists sleep in the studio space in the Black Rock Campground, which is furnished with a twin bed and bureau. The studio has a drafting table, several folding tables, and ample natural light. Public toilets are adjacent to the studio space. Shared kitchen, laundry, and bathing facilities are a short walk or drive from the studio at the Interagency Fire Center. The distance between the sleeping space and the kitchen and bathing facility is less than half a mile. The town of Yucca Valley is about a 10 minute drive away and has a variety of shopping and dining as well as medical facilities.
Though housing is provided, artists are responsible for their own expenses such as meals, personal art supplies, transportation, etc. Only one occupant is allowed at any time in housing. Park policy prohibits bringing pets.
Donation of Work to the Joshua Tree National Park Collection
At this time, work is not being accessioned into our museum collection. Therefore, artists are asked to share high-quality, digital images of any works produced as a result of their time in residence with the park, with permission to reproduce the images for the sole purpose of promoting the park's residency program. A credit will be given to the artist any time the work is reproduced for this purpose.
Black Rock Art Gallery
The gallery is located in the Black Rock Nature Center and exists as a as a space for presenting contemporary interpretations of themes related to the park. Exhibitions are made by selected Artists in Residence as well as community and other artists.
How to Apply
Applications for the Fall 2022 and Spring 2023 residencies will be accepted from April 1-May 31, 2022.
Email digital application materials to: jotr_education@nps.gov as a single pdf document with your resume, statement of purpose, and highlighted work samples to be reviewed. If the work is an audio or visual recording, include a link in the document for jurors to access. This one document will then be forwarded to jurors for review.
The following required materials must be included in one PDF file:
Artist Resume

Be sure to include current contact information, including email, and link to professional website. Social media pages are not appropriate substitutions for professional websites and may not be accessible to jurors.

Statement of Purpose for the Residency

Statement not to exceed 2 pages in length, double-spaced, 11 pt font.
Work and Aspirations: Briefly describe your artistic practice and explain how a residency would further this practice. What ideas do you typically explore and what media do you use? What are your motivations as an artist? What do you hope to gain artistically from this residency? In considering projects, please note that permanent or temporary alterations or manipulations of the landscape are strictly prohibited. Artists will follow the tenets of Leave No Trace as well as all established rules and regulations. Any work expressing a desire to alter the landscape or bypass park rules in any way will not be reviewed favorably.

Residency preference

Selections are made in the summer of the application year. The residency period is from October through April. At the top of the statement, write the 3-4 week period for which you are applying. Please indicate which first and second choice if you are applying for multiple periods of time.

Work Samples

Understand that jurors may review all content on professional websites, however, up to five work samples maybe submitted as highlights. These should be included in the same pdf as the resume and statement of purpose. Use high resolution images with the name of the work, date, media, and a brief description, or direct links to pieces on the website. For music, film, performance, or other time-based media, artists must include the name of work, date, and link in the application pdf. Ensure the links work as intended. Visual artists: up to 5 samples. Writers: no more than 5 pages written. Time based: (audio or video): no more than 10 minutes in total for all submitted pieces.

Application Processing Fee $35

This non-refundable fee will be retained by the Joshua Tree National Park Association and will be used to directly support the Artist in Residence program.
Pay the fee online via Eventbrite: https://www.eventbrite.com/e/304090010407
Digital payment and application must be received by midnight, May 31, 2022.
Artists will receive confirmation via email upon receipt of both application materials and the processing fee. Only complete applications will be considered.
For questions contact jotr_education@nps.gov.
Review Process

Applications are judged by a jury comprised of former program participants and Volunteer Art Professionals. Jurors consider artistic merit, relevance to the park, and originality of the proposal.
Last updated: March 29, 2022