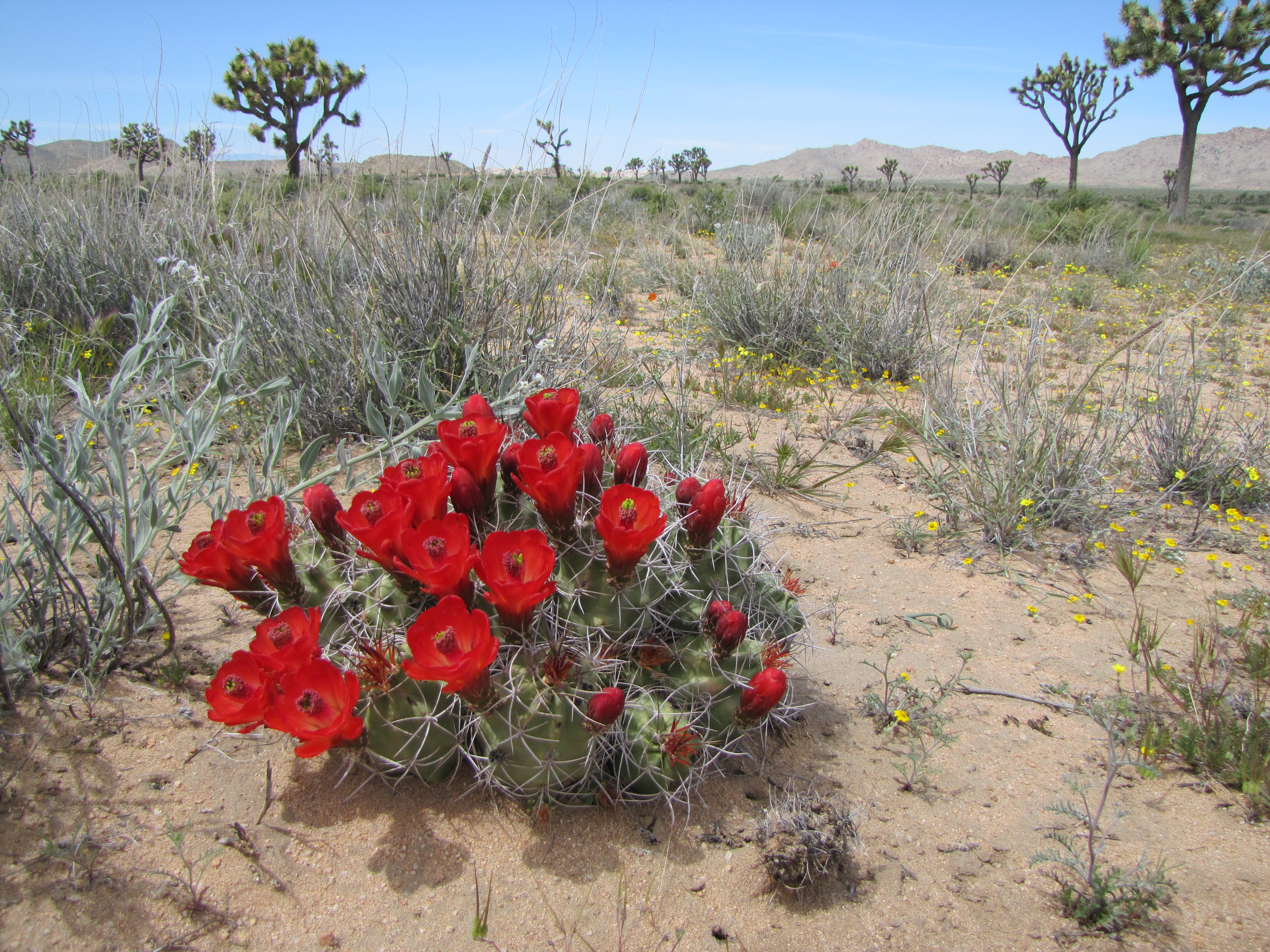 A gorgeous Mojave Mound Cactus (Echinocereus mojavensis) shows off its red flowers in Queen Valley. Photo: NPS / Neil Frakes
Remember
Do not pick wildflowers. Leave them for others to enjoy and to reproduce so they can come back next year.
Watch your footing when you view and photograph wildflowers. Many visitors have trampled the wildflowers. Again, this ruins the flower viewing experience for others, and the flower won't be able to reproduce for future year's bloom.
Wait until you reach a pull out to park your car, and park in designated areas only. Parking illegally poses a danger to everyone and destroys wildflowers that may be on the roadside.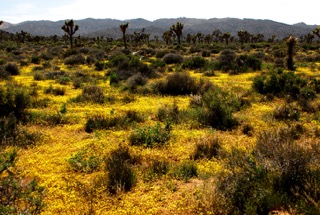 A field of yellow along Keys View Road. Photo: Horace Birgh

The blooms are  still colorful and worth seeing in the southern part of the park near Cottonwood and really coming into their own in the western portion of the park. The colorful bloom continues near the north entrance. Wildflowers are starting to become more abundant at the higher elevation areas, such as Keys View Rd.
Please take a look at past blog posts, as the information in the past reports is still relevant and will help with species identification. And be sure to visit and contribute to our
iNaturalist Wildflower Watch Project
.
Southern Half of the Park
Cottonwood Springs Road and Bajada Trail
The blooms along Cottonwood Springs Road are peaking or a little past peak at lower elevations. Purple mat, Nama demissa, is spreading along the sand with its vibrant purple flowers. You can only find purple mat blooming between April and May and at elevations between 2,000 and 5,500 feet.  The sand blazing star is throwing out its ghostly white flowers with its friend the desert star. The strikingly otherworldly ocotillo blooms are peaking as well. Ocotillos actually have the potential to flower all year round, but they only bloom after it rains. The beloved golden poppies have mostly gone along with Encelia farinosa.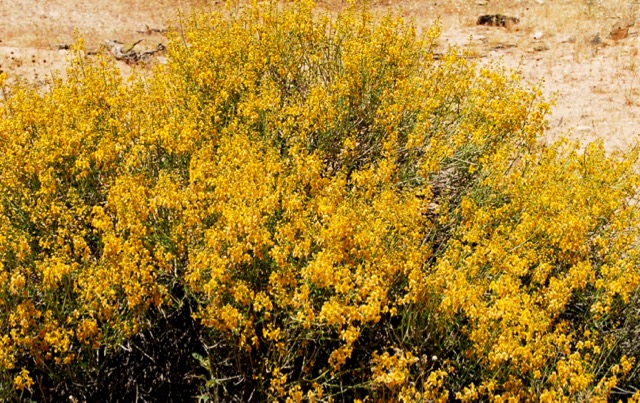 Golden desert sennas in Cottonwood Canyon. Senna provides important ingredients for laxatives. Photo: Horace Birgh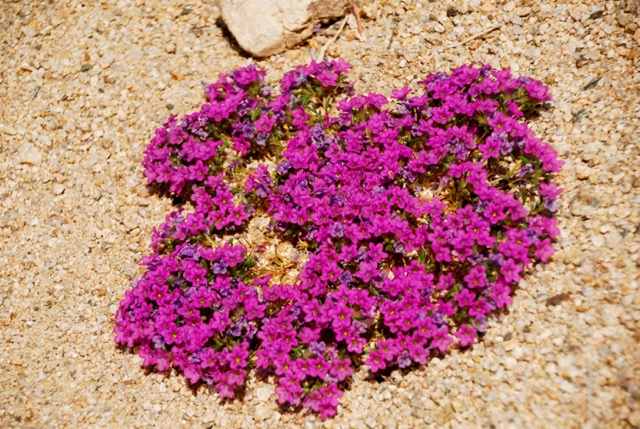 Purple mat near the South Bajada Nature Trail. Photo: Horace Birgh
Western Half of the Park
Geology Tour Road
If you have four-wheel drive, head down Geology Tour Road to check out the lavender Mojave desert aster. The Mojave aster has been used in the past as perfume because of its fragrant properties. You can also see fields of white and yellow thanks to the Acton's encelia, Parish Viguera, desert dandelion, and pincushion. Parish's onion is also starting to come and can be seen growing among the rocks.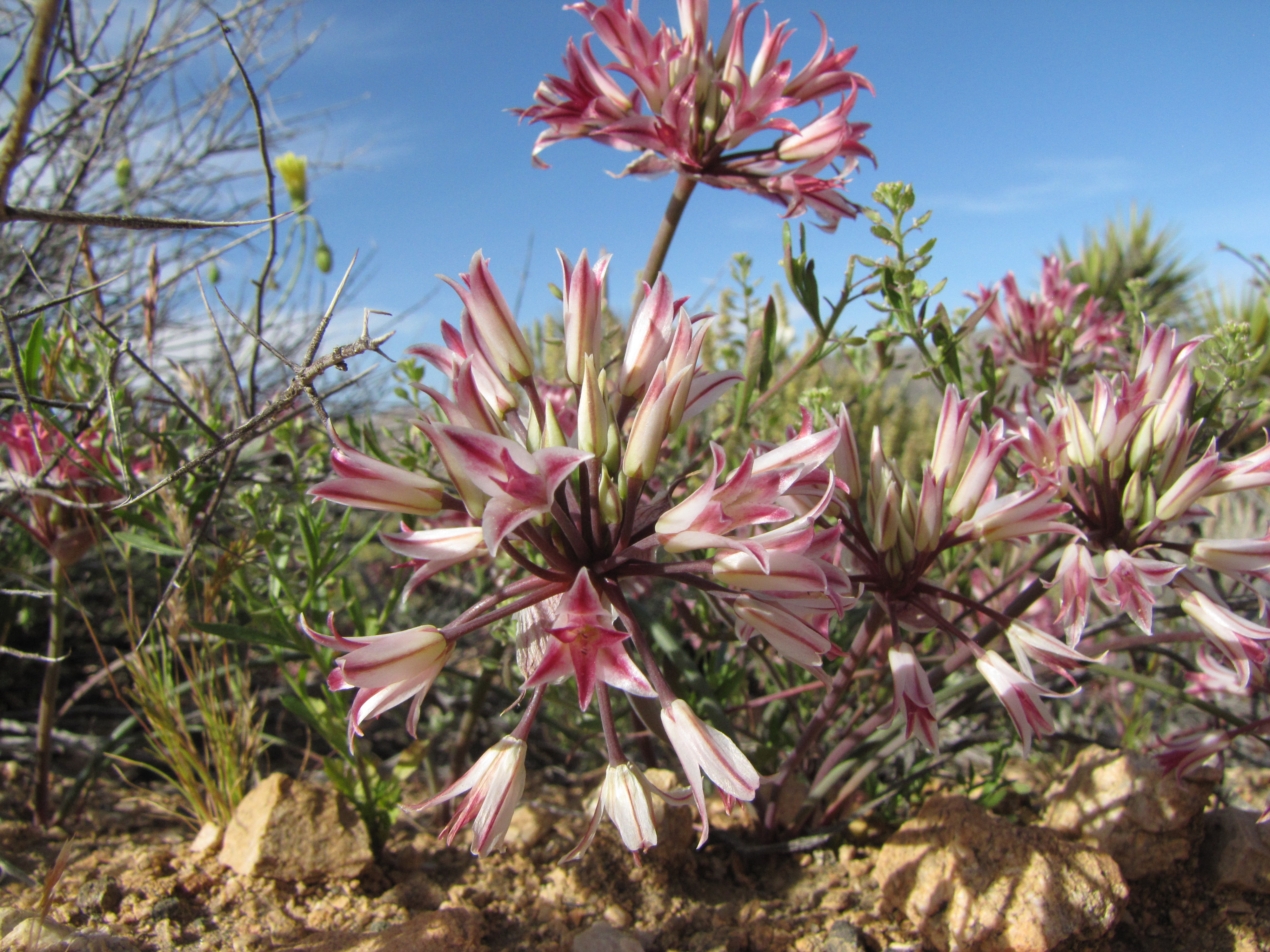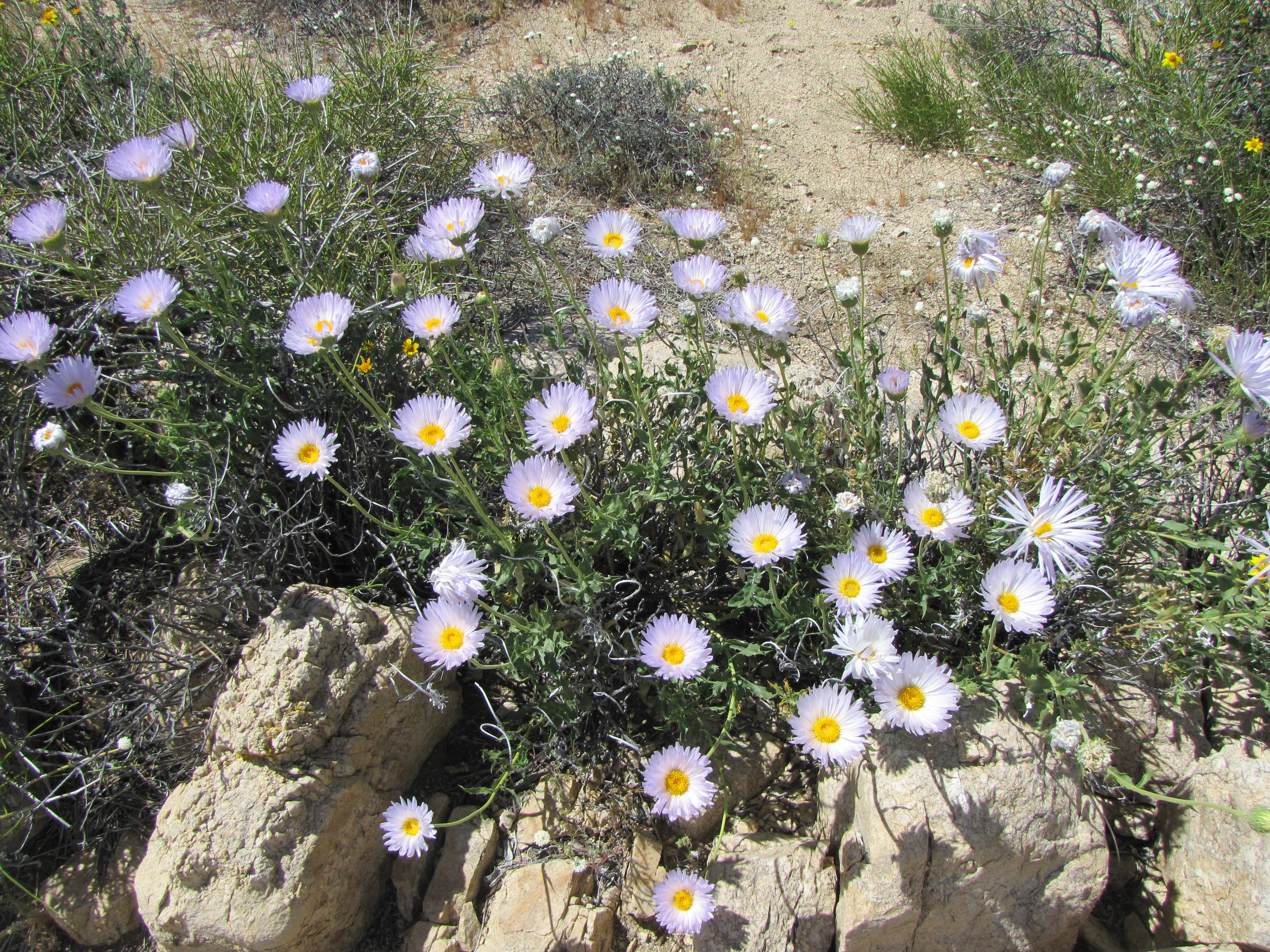 The spherical Parish's onion, Allium parishii, and violet Mojave desert aster are hanging around Geo Tour Road. You can find Parish's onion growing in Arizona's Sonoran desert, too. Photos: NPS / Neil Frakes
Ryan Mountain
Colorful blooms guide your journey up the long steep trail to the top of Ryan Mountain. The abundant yuccas are blooming as you make your way up to the summit. Maybe you can also find some encouragement along the arduous trail from the lavender desert Mojave asters and golden blackbrush.
Just a warning, the trail crew is repairing a section of the trail. Please watch your step and kindly follow their instructions as you make your way to the top.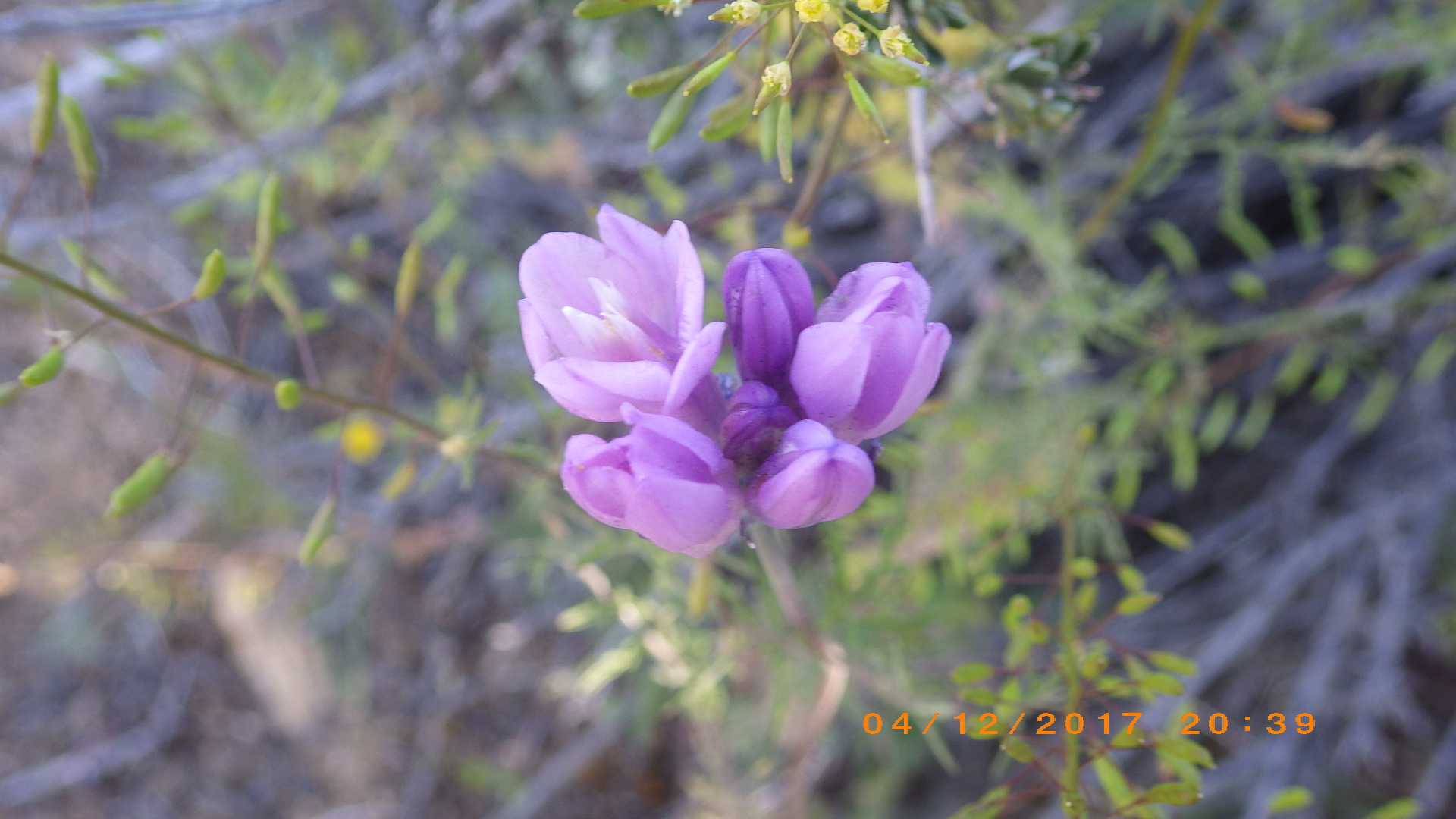 Bluedicks, Dichelostemma capitatum, can be found along the Ryan Mountain Trail. Many animals, including black bears, appreciate this plant by eating it. Photos: NPS / Laura Ashfield
Keys View Road
You can find an abundance of yellows and oranges along the road thanks to golden linanthus (Leptosiphon aureus), fiddleneck (Amsinckia tesselata), and wooly easterbonnets (Eriophyllum wallacei). The gentle giants, Parry's Nolina (Nolina parryi), is also just beginning to bloom along the road. You can find them at the last non-handicap turnout from the top of Keys View Road. The typically purple boxthorn in the area has nearly pure-white flowers at this location!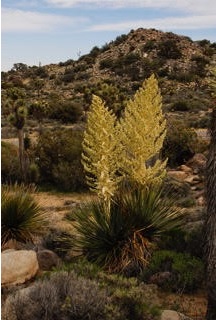 A Nolina beargrass inflorescence can be more than 4 feet tall. Photo: Horace Birgh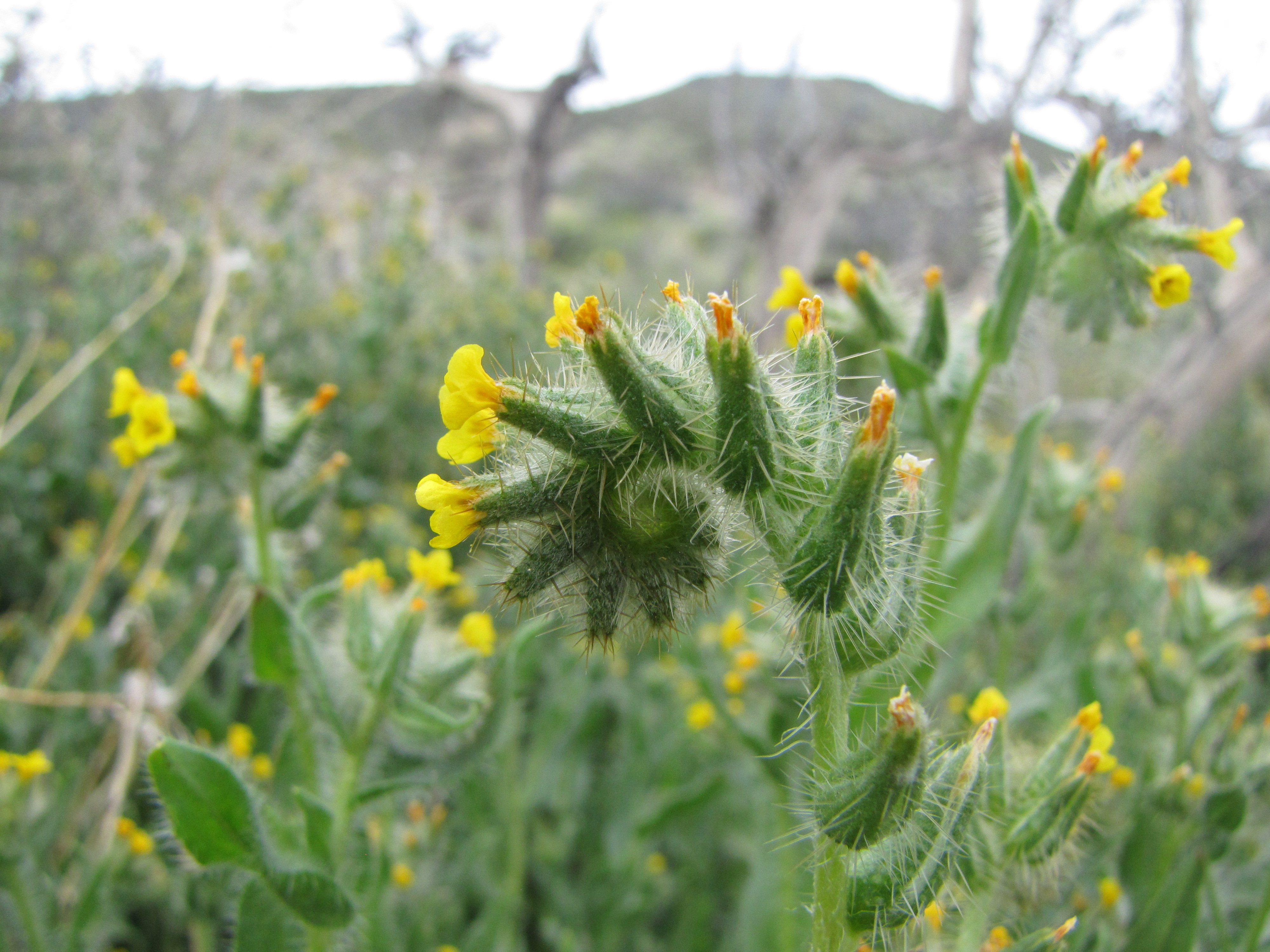 Bristly fiddlenecks, Amsinckia tesselata, while not very showy can be just about everywhere in the park. Photo: Neil Frakes

Lost Horse Valley
The Lost Horse Valley is joining other areas by peaking with fields of yellow. There you can see dense carpets of yellow from golden linanthus and wallace's wooly daisy. Bristly fiddlenecks are adding their own yellow flowers to the show.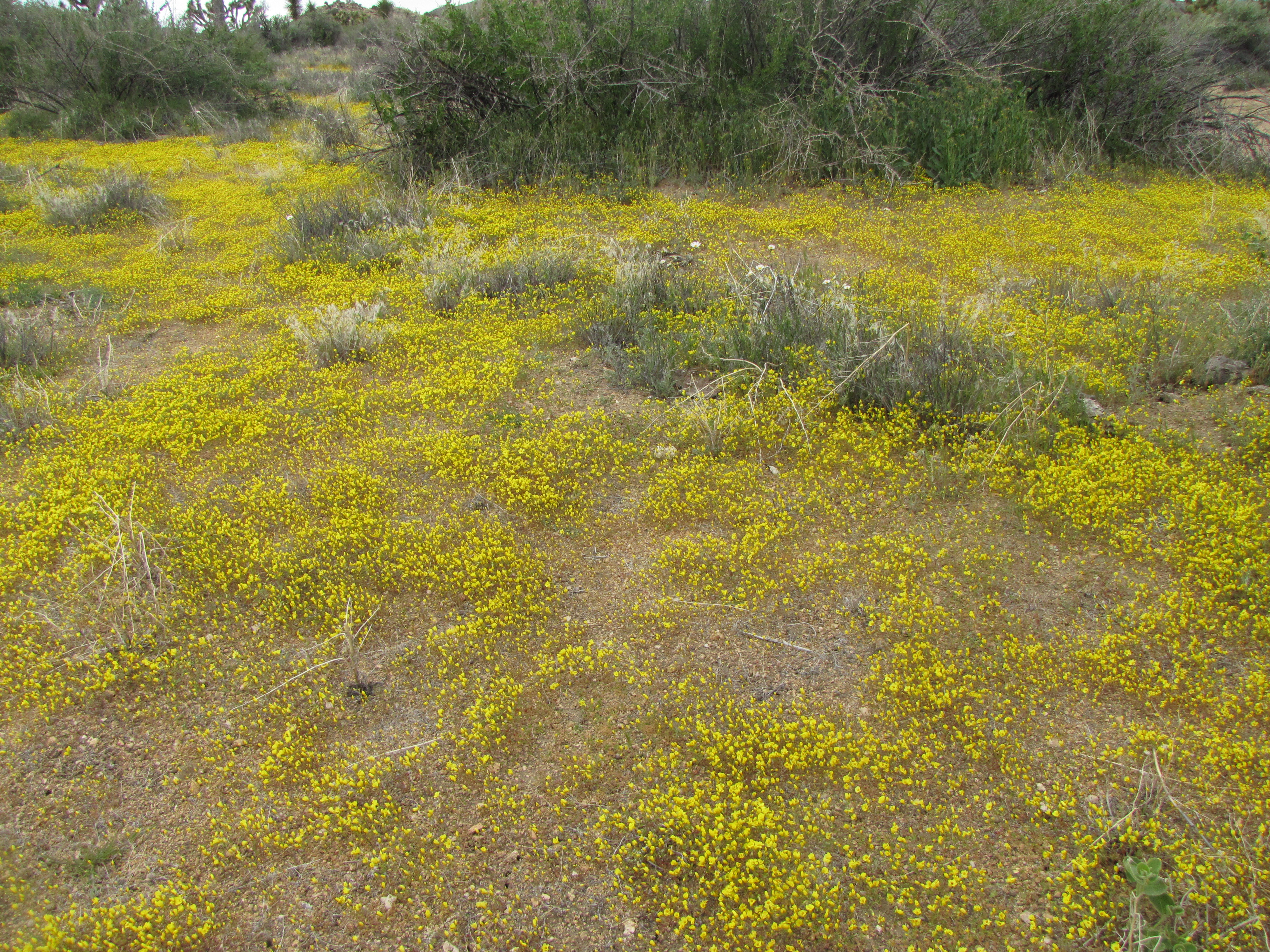 Golden linanthus is erupting in giant fields in parts of Lost Horse Valley. Photo: NPS / Neil Frakes
Willow Hole Trail
If you want to go an adventure, try hiking down Willow Hole Trail. The trail starts at the Boy Scout Trailhead and ends up in the Wonderland of Rocks. You can see yellow desert dandelions and clusters  of large chia. Check out the bright red flowers on the Mojave mound cactus as well. If you look hard enough, you may even see a small desert calico.
Just a warning: while the Wonderland of Rocks can be an amazing place to explore, many hikers have gotten lost, injured, and needed to be rescued, sometimes by helicopter! Know your limits, carry a map, food, and plenty of water if venturing into this area. Even the most experienced hikers can get turned around and lost.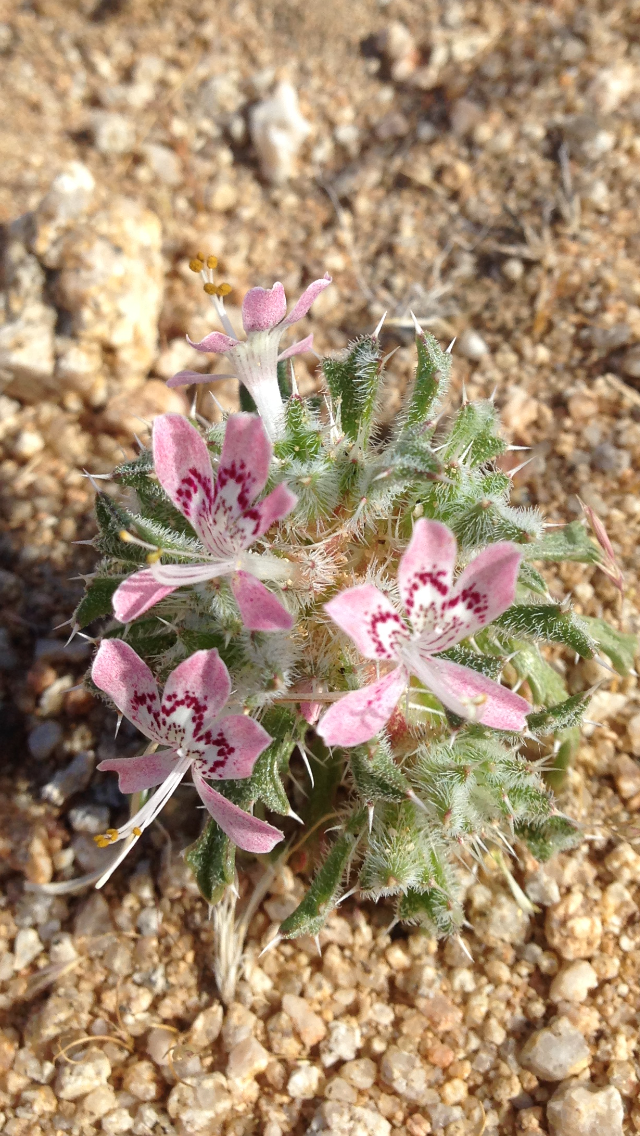 The desert calico, Loeseliastrum matthewsii, flowers have intricate designs, but you have to get down close to the ground to observe these tiny plants. Photo: Samuel King
Black Rock
The blooms around Black Rock are reaching their peak as well. If you want to go down the Hi-View Nature Trail, you can see the Nolina beargrass project its giant flowers. Shrubs such as boxthorn and the California juniper can be both seen and smelt along the trail. Brilliant whites and yellows can be observed from the whitedaisy tidytips (Layia glandulosa) and pincushion flowers. Check out the last of beavertail pricklypear (Opuntia basilaris)cacti blooming as well. These blooms may last for only a few more weeks.