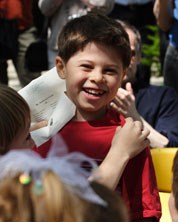 John F. Kennedy National Historic Site Kicked off its 41st season with a Weekend of Special Events.

On Friday the site hosted the 2010
"What John F. Kennedy Means to Me" Essay & Poetry Program
. The program featured poems written by the third graders of the Edward Devotion School in Brookline, Massachusetts. The poems, composed as part of an intensive, month-long study of JFK that included visits to the John F. Kennedy Presidential Library and Museum, John F. Kennedy National Historic Site, and independent research, expressed how each class felt about JFK. As part of the unit, students wrote essays about what JFK meant to them personally. After an extensive peer review process, the winning essays from each class were announced at the ceremony. Saturday and Sunday the site celebrated what would have been
JFK's 93rd birthday
with a free open house. Visitors were treated to birthday cake and lemonade and invited to explore John F. Kennedy's birthplace. From 1:00 – 4:00pm each afternoon, pianist Benjamin Warsaw played Mrs. Kennedy's piano, filling the house with music as it would have been during the Kennedy's time. The weekend was an enthusiastic start to a great season at John F. Kennedy National Historic Site.