Recreate Responsibly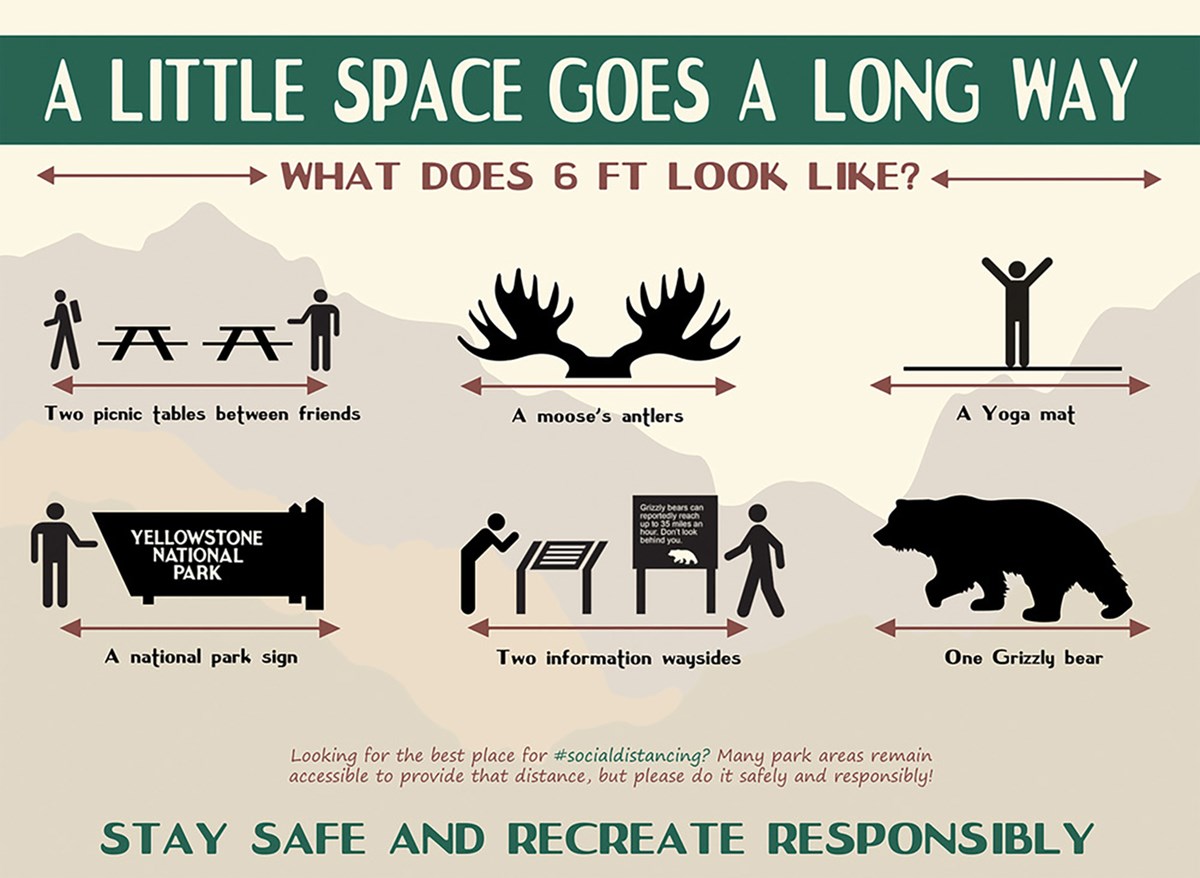 Services are limited and the National Park Service urges visitors to:
Park only in designated areas.
Be prepared for limited access to garbage service and pack out everything you bring in.
Maintain 6 ft (2 m) social distance from others.
Stay on marked trails.
Most importantly, please stay home if you feel sick.
Social Distancing in Your Park
The health and safety of those who visit and work in national parks continues to be paramount, which is why we need you to be our partner in adopting social distancing practices. The CDC has offered guidance to help prevent the spread of infectious diseases while enjoying the outdoors.
Park rangers remain on duty to protect visitors and resources and uphold normal regulations. When recreating, please Recreate Responsibly and practice Leave No Trace principles.
Be sure to park only in designated areas, pack out everything you bring, plan to visit at times other than busiest times of the day or week, maintain social distance from others, and if you encounter a crowded trailhead or overlook, seek another location to recreate.  
We are also encouraging you to find your virtual park! Explore national parks from the comfort of anywhere in the world through online galleries of photos, videos, webcams, podcasts, and sound recordings.
Text Alternative for the A Little Space Goes a Long Way (6 Feet Distancing) Infographic
Infographic with text reading "A Little Space Goes a Long Way. Stay Safe and Recreate Responsibly. Looking for the best place for #socialdistancing? Many park areas remain accessible to provide that distance, but please do it safely and responsibly! What does 6 feet look like?" First example is 2 picnic tables between 2 people reading "Two picnic tables between friends." Second example is antlers reading "a moose's antlers." Third example is a person on a line reading "a yoga mat." Fourth example is a person next to a Yellowstone National Park entrance sign reading "a national park sign". Fifth example is 2 people by park panels reading "two information waysides." Sixth example is a bear reading "one grizzly bear."
Last updated: August 4, 2022