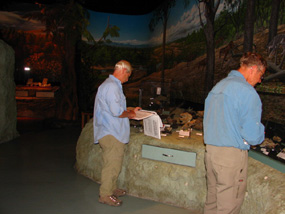 At the Thomas Condon Paleontology Center:
A Place of Discovery: Our 18 minute park film is shown on the hour and half hour during the summer months. In fall, winter, and spring it is shown on request.
The fossil gallery contains hundreds of specimens from a 40 million year span of time, from tiny plant seeds to large rhinoceros skulls.
The classroom is full of family friendly activities, and is open to all except when being used for education programs.
The fossil laboratory can be viewed through a large picture window. There is often someone in the lab working, although sometimes the paleontologists may be in other offices or out in the park looking for more fossils.
The Cant Ranch Museum is open on most weekdays. Exhibits focus on the human history of the area.