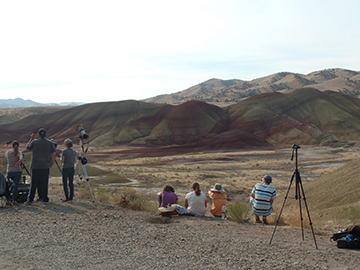 News Release Date:
August 27, 2017 Kimberly, Oregon – At 10:21 am on August 21, 2017, the moon and the sun came into complete alignment with clear skies over John Day Fossil Beds National Monument giving the thousands of visitors waiting in excited expectation approximately two minutes to view totality. Many cheered when totality was reached, while others watched in wonder and awe. They came from around the world to be in the Path of Totality, surrounded by John Day Fossil Beds natural wonders, from the colorful Painted Hills, to the unique landscapes of Sheep Rock and Clarno. All were in good spirits and many expressed their thanks for the opportunity to view the eclipse from John Day Fossil Beds facilities.
Visitation drastically increased daily as the eclipse approached. Each of the three units saw a significant increase in traffic in the days leading up to the eclipse. Parking lots quickly filled the day of the eclipse with parking overflowing onto road shoulders. Additional day parking areas created in designated fields, absorbed overflow parking in the Sheep Rock and Painted Hills units. The Thomas Condon Paleontology Center had record visitation and sales for several days around the event including Sunday visitation at 765% of the previous highest single day. For the August 15-22 week, visitation to the Paleontology Center was 22% of the total visitation for all of 2016.
The Pacific West Region of the National Park Service Western Incident Management Team (WIMT) worked with John Day Fossil Beds Superintendent Shelley Hall, park staff, and an NPS Special Events Tactical Team to prepare for and manage the predicted high visitation including managing volunteer interpretive rovers, public access, road closures, emergency response, and traffic and parking congestion. Social media leading up to and during the week provided planning and safety messages as well as updates the day of the eclipse as parking lots filled. A wildland fire contingency plan was developed due to extreme fire danger, but fortunately was not implemented. There were no incidents or injuries during the days leading up to or during the eclipse.