Fossil Beds Now Free From Fossil Fuels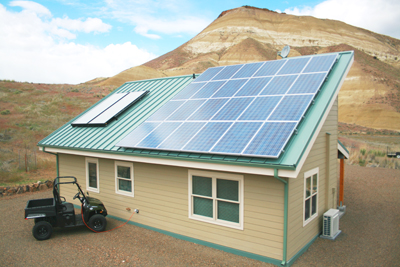 News Release Date:
June 7, 2011
Contact: John Day Fossil Beds - Interpretation
The quiet hum of a brand new electric vehicle can be heard as rangers patrol the roads of the Painted Hills, a remote unit of John Day Fossil Beds National Monument. A Polaris EV LSV, on loan to the park for a year, is the latest addition to a green energy revolution taking place in this remote site.
The goal, which is to make the park's Painted Hills Unit carbon neutral and energy self sufficient in housing, administration and transportation, was close to being realized with the completion of a new residence for the unit ranger. This house, built at a cost comparable to standard construction, not only eliminates utility costs to the ranger in residence, it exposed local contractors and the public to a building method far more energy efficient than anything they are familiar with. The house is so efficient, in fact, that it generates far more energy than it uses, all of which is carbon free.
But the house was only the beginning. To establish a carbon-neutral operation, the transportation requirements also needed to be factored in. Polaris stepped up to address this need and loaned the monument an electric vehicle.
NPS leadership in Washington have recently challenged parks and monuments to set a high standard for carbon neutrality and sustainable operations. The management team at John Day Fossil Beds took this challenge very seriously.

"I think we have a shot at being one of the very first park units with moderately high visitation to be carbon neutral and energy self-sufficient," said Jim Hammett, the park's superintendent.

By working closely with the monument's cooperating association, Discover Your Northwest, Hammett made contact with Polaris, who offered its electric vehicle on loan for the Painted Hills operation, for which it is ideally suited. Hammett was thrilled.
"We'll be able to plug it in at the house and use the surplus solar-based energy it generates to charge it," he said.
Hammett hopes the residence and vehicle at the Painted Hills will become a prototype for future housing and sustainable operations practices in the National Park Service. At the very least it demonstrates unequivocally to park visitors the National Park Service commitment to energy sustainability, green building practices, and reducing our carbon footprint.
The facilities at the Painted Hills unit of John Day Fossil Beds are the latest in a series of efforts to establish a sustainable, green operation. The monument's flagship visitor facility, the Thomas Condon Paleontology Center, uses highly visible yet unobtrusive solar panels to augment its energy needs. Additionally, through an agreement with Bonneville Power Administration, the energy purchased by the monument to supplement that which it generates itself is produced using only renewable, carbon-neutral sources.
Last updated: December 14, 2017