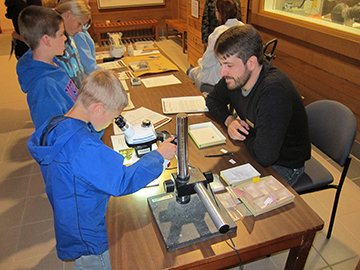 News Release Date:
September 29, 2017 Join us at the Thomas Condon Paleontology Center for a celebration of our national fossil heritage across the country. On October 7th from 11 am until 3 pm, participate in National Fossil Day, an annual celebration held to highlight the scientific and educational value of paleontology and the importance of preserving fossils for future generations.
The park's paleontologist will be available from 11 am to 3 pm to identify rocks and fossils (remember no collecting in the monument) and will give an hour-long talk about fossils at 1 pm.
At 11 am, meet at the Blue Basin parking lot to join a one hour, ranger-led hike on the Island in Time trail. As you hike through the green-blue clay stone badlands, see fossil casts placed along the trail. This moderate hike has elevation changes and is not accessible to wheelchairs. Dog owners should be aware there are multiple bridges and the walking surface may not be suitable for their pets and may need to be carried across the bridges. Bring water, sun/weather protection, and a light snack.
At 2 pm, participate in a practice prep lab by excavating fossils and learn about the skills needed to be a paleontologist. Throughout the day, earn your Junior Ranger paleontologist badge and watch the 18-minute long orientation film.
Chris Collins, Acting Superintendent at John Day Fossil Beds says, "We are excited to celebrate National Fossil Day. This day lets us showcase some of our park's most valuable resources. Fossils tell us about ancient life, climates, and landscapes. Join us and see world-class fossils on display and experience active scientific research through the laboratory window."
In the meantime, get involved now and participate in the 8 th annual National Fossil Day Art Contest sponsored by the National Park Service and National Fossil Day partners. The contest is open to any interested person, of all ages. Entries will be judged based on originality, creativity and how well the submission addresses this year's contest theme. You must be a resident of the United States to enter. For more details about submitting to the National Fossil Day Art Contest, please visit our link:
https://www.nps.gov/subjects/fossilday/art-contest-2017.htm
.