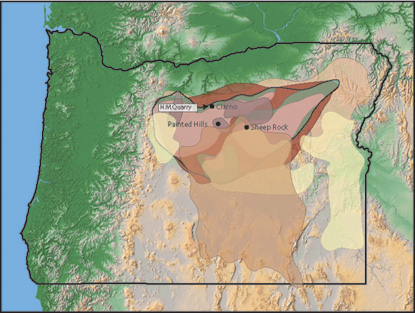 The geology at the John Day Fossil Beds can be split into two broad categories: physical and historical. Physical geology describes the processes that form rocks, faulting events, and other geologic occurrences. Historical geology examines the origins of the Earth and life's adaptations to a dynamic planet. Both of these categories are utilized to find fossils as well as research and describe the landscapes that dominate the area.
Sedimentary layers are deposited in a time sequence, with the oldest on the bottom and the youngest at the top. Think of layers of rock as being pages in a book. As you continue paging through the book, you work from the youngest layer in a time sequence to the oldest. Though the former is not always the case, sometimes older rock may overlie younger formations. Faulting events or unconformities (missing sections of geologic time) can often pit old rock against young where there ought to be horizontal time continuity of rock layers.
How old are the rocks? John Day Fossil Beds are now dated through the study of zircons, which is a highly accurate method of determining the age of igneous rocks. Boise State University conducts the zircon dating for the monument. The university offers a detailed tutorial for the method of zircon dating. Click this link: ZirChron to learn more.