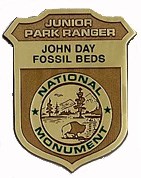 Booklets are available from a ranger at the Thomas Condon Paleontology Center, north of Dayville on Highway 19 or you can mail in your completed booklet and we will mail you a badge!

When finished with the booklet, bring it to any ranger to look over.
You can also become a Web Ranger!