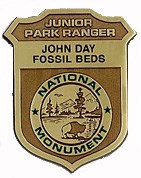 John Day Fossil Beds Junior Ranger badges are awarded to those who visit the park and complete the appropriate number of activities (as determined by age) in the Junior Ranger booklet. Booklets are available from a ranger at the Thomas Condon Paleontology Center, north of Dayville on Highway 19 or you can mail in your completed booklet and we will mail you a badge!

Download a copy of the booklet to print at home.
When finished with the booklet, bring it to any ranger to look over.
You can also become a Web Ranger!