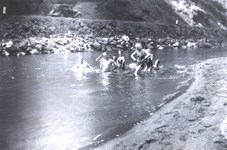 Who was John Day?
John Day Fossil Beds National Monument is named after the river that flows through the area. But how did the river get its name?
John Day was born in Culpeper County, Virginia, about 1770. In 1810, at the age of 40, he joined an overland expedition to establish a fur trading post at the mouth of the Columbia River. The party became divided and widely separated. John Day and Ramsey Crooks eventually reached the mouth of the Mah-hah River along the Columbia, probably in late 1811. While camped there, they were robbed of everything they had, including their clothes. The culprits were likely Native Americans, as there were few other people in Oregon at this time. Day and Crooks were able to reach Astoria (Oregon) in 1812, where Day settled nearby. He would later relocated to Idaho, where he died in 1820.
Following this incident, people traveling along the Columbia River would point out the mouth of the river where John Day was robbed. By the 1850's, the Mah-hah River had been renamed the John Day River.
As far as historians can tell, John Day never found a fossil nor came within 100 miles of the monument that indirectly bears his name.