Hurricane News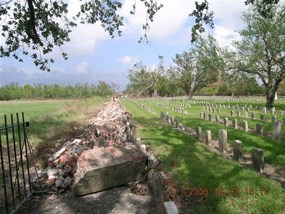 One of the realities of life on the Gulf Coast is hurricane season. Every year residents watch and wait. In recent years, several hurricanes have had significant impacts on Jean Lafitte.
Hurricane Isaac hit Louisiana in 2012 on the seventh anniversary of Hurricane Katrina. Although Isaac was a Category 1 hurricane, its slow pace created a major impact. Learn more here.
In 2008, Hurricanes Gustav and Ike blew through south Louisiana with high winds and coastal flooding.There was little damage to structures, but widespread power outages forced some park sites to remain closed for nearly three weeks.
Downed trees, especially at the Barataria Preserve, were the biggest consequence of the storms. Expert chainsaw and cleanup crews from the U.S. Forest Service, National Park Service, and the Bureau of Indian Affairs removed trees and debris from trails and waterways at the preserve and from the grounds of other sites.
Hurricanes Katrina and Rita slammed into the Gulf Coast in fall 2005, the biggest disaster in modern American history.
The Acadian Cultural Center in Lafayette, the Wetlands Acadian Cultural Center in Thibodaux, and the Prairie Acadian Cultural Center in Eunice were not damaged by the storms but were used as staging areas for National Park Service disaster recovery teams.
The French Quarter Visitor Center in New Orleans suffered roof damage and power outages but reopened in mid-October 2005.
The Barataria Preserve reopened in early October 2005 but suffered damage to trails and buildings. All trails and visitor facilities are now open, but effects to the preserve ecosystem are still visible. About 60% of the preserve's big trees blew down or were damaged, resulting in more light for understory plants, which are now thriving.
Chalmette Battlefield reopened in September 2006, but the visitor center was destroyed and most structures were damaged. The site did not fully recover until late 2010, when the new visitor center was completed.
Last updated: April 28, 2020