American Indians in Louisiana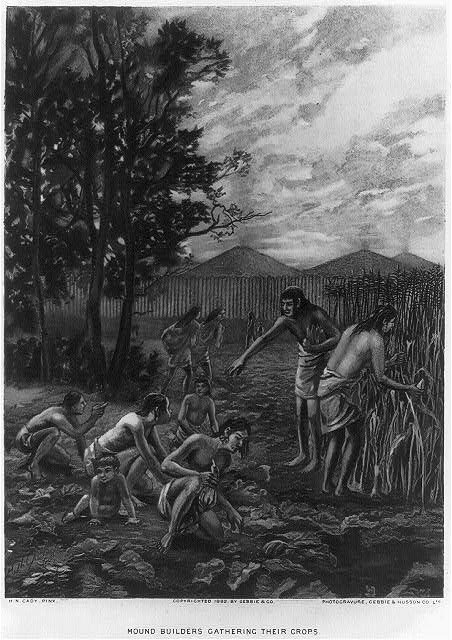 When Europeans arrived in the area that is now Louisiana there were societies comprised of thousands of people that had been living here for over 10,000 years. Poverty Point National Monument in West Carroll Parish preserves the remains of a community that was part of a large trade network with impressive engineering skills. This community reached its zenith a thousand years before Rome conquered the Mediterranean.

At the Barataria Preserve, shell middens and mounds indicate where people once lived in seasonal camps and small villages. Indigenous people built mounds as burial and ceremonial structures. Mound-building societies lived throughout North and South America since as early as 4,500 BCE.

European explorers provided the first written records about Native Americans in the southeastern United States. Members of Hernando de Soto's expedition described several villages along the Mississippi River. When European colonization began in the 1700s, historians estimate that tens of thousands of native people lived in Louisiana, speaking 22 distinct languages. New diseases brought by outsiders, wars, government-forced displacement, and competition for land and food led to a major decline of indigenous populations in Louisiana.

Despite these impediments, many aspects of indigenous cultures and practices have survived to today. Native peoples' understanding of the environment contributed to the success of many European, Asian, and African settlements. Native Americans shared their knowledge of medicinal plants, seasonal patterns for floods and seafood harvests, and agricultural and building skills suited to the local landscape. Today, there are four Federally recognized Tribes in Louisiana: the Jena Band of Choctaw Indians, the Tunica-Biloxi Tribe of Louisiana, the Coushatta Tribe of Louisiana, and the Chitimacha Tribe of Louisiana; and 11 State recognized Tribes.

We give thanks to and celebrate the indigenous cultures, accomplishments, contributions, and heritages of Louisiana. We support President Biden's proclamation for this year's commemoration, A Proclamation on National Native American Heritage Month, 2022 | The White House.
Last updated: November 28, 2022