History & Culture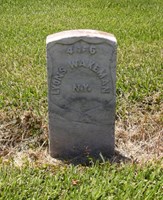 Sometimes remarkable stories are where you least expect to find them. This simple Civil War headstone at Chalmette National Cemetery marks the final resting place of a woman who disguised herself as a man to fight for her country.
The six sites of Jean Lafitte National Historical Park and Preserve represent a treasure trove of south Louisiana's historical and cultural riches. People from nearly every country, ethnic group, language, and religion have come to the lower Mississippi River delta and left traces of their passing.
As author William Faulkner wrote, "The past is never dead. It's not even past." In south Louisiana, the places where history happened are around every corner and down every bayou, and the well-worn skills and traditions of previous generations are revered at the same time they're adapted for life in a new century.
Follow the People and Places links to find out more about history and culture at Jean Lafitte National Historical Park and Preserve.
Follow the links below to learn about:


Last updated: December 31, 2020