Field Trips at Chalmette Battlefield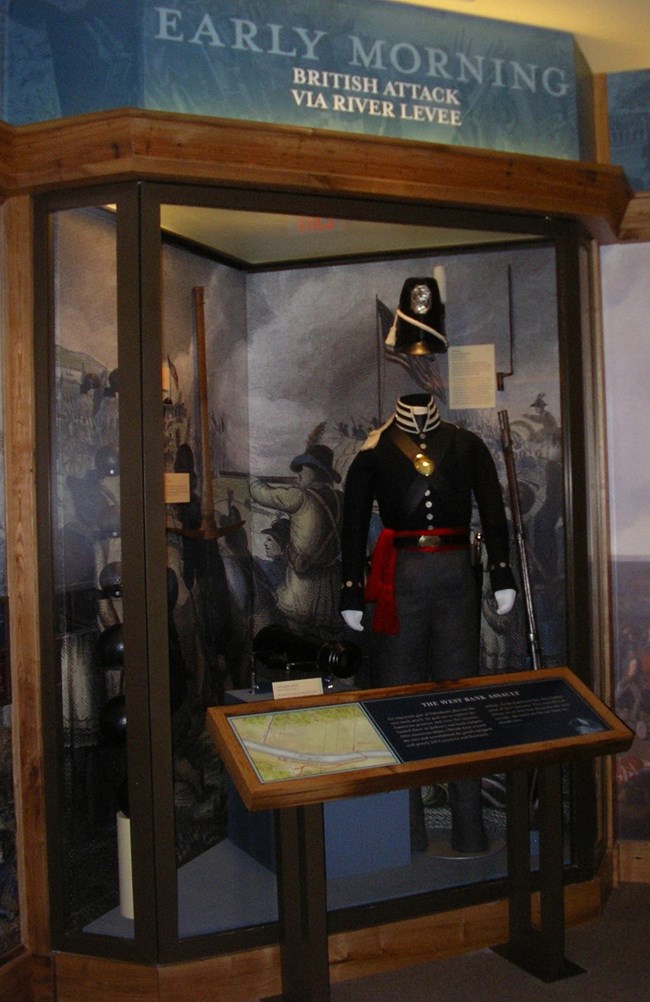 At Chalmette Battlefield and National Cemetery in Chalmette, field trip participants can learn the story of the War of 1812 and find out why the Battle of New Orleans made the United States a true power on the world stage. At this time, staff are unable to offer ranger-led programs other than the daily talks (see below), but groups can explore the site on their own. If you have a school, military, or other group wanting a dedicated ranger program, please email the battlefield or call 504-281-0510 to speak with a ranger. Otherwise, we encourage all groups to explore the site on their own during regular hours.
attend the daily ranger talk at 2:45 p.m. when the Creole Queen excursion boat arrives
discover the films and exhibits of the visitor center
view the Mississippi River from the top of the levee
download, print, and share pdfs for Chalmette Bingo (suitable for grades 1-2) or Chalmette Challenge (grades 3-8) and test your knowledge.
learn more about the Battle of New Orleans with an electronic field trip to the Battle of New Orleans that was produced by WYES-TV in 2015.
Field Trip Information for Teachers
Plan like a Park Ranger! Be prepared for your field trip and learn about our facility below.
Buses should pull up to the side of the visitor center to let students off. Once all students, chaperones, and teachers are off the bus, buses will parking along Battlefield Road.
A water fountain is available at the Chalmette Battlefield Visitor Center, but there are no food or drinks to purchase. Although a lunch break will not be included in the program, you are welcome to eat your bag lunches at the picnic area outside next to the visitor center.
No food, drink, or gum is allowed in the visitor center. Plan to leave them on the bus. 
Dispose of Waste Properly. Take all trash with you.
Leave what you find. Leave all natural objects where you find them.
Respect wildlife. Observe wildlife from a distance and never feed them.
Be considerate of other visitors. Avoid loud voices and noises.
Stay on the path and trails. Limit your impact on our natural resources.
Food, drinks, chewing gum, and candy are not allowed in the visitor center. Food particles attract pests that could be harmful to the exhibits. Please leave lunches and drinks on the bus.
Remember this is a visitor center! People from all over the world come to learn about our history and culture. Please show respect by being polite and attentive. 
Students must be accompanied by a chaperone in the gift shop. Each of our park sites has a gift shop filled with items specific to the history, nature, and culture of its location. If students enter the gift shop area, chaperones must accompany students and monitor them.
Plan early! Jean Lafitte requires a chaperone for every ten students. Extra chaperones are welcome.
If your program takes place outside on our grounds, plan for the weather! Bring insect repellent, sunscreen, a hat, closed toed shoes, a water bottle, and rain gear.
Learn about accessibility at our park
here
. Have any questions or concerns? Let us know!
Send us an email
or call the Chalmette Battlefield Visitor Center at (504) 281-0510.
To schedule your field trip, please either
email the park
or call the Chalmette Battlefield Visitor Center at (504) 281-0510.
Have questions about our field trips or facilities?
Send us an email
or call the Chalmette Battlefield Visitor Center at (504) 281-0510.
Last updated: August 11, 2022